'Gary's shattered when Nicola tells him about the baby,' reveals Corrie's Nicola Thorp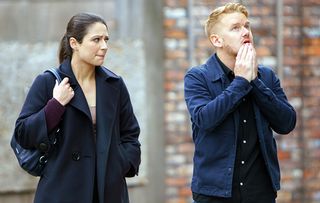 (Image credit: Mark Bruce)
Coronation Street's Nicola is stunned into denial when Gary confronts her about being pregnant, Nicola Thorp tells Soaplife. Then she tells him the truth…
Nicola Rubinstein is having enough trouble as it is getting her head around the fact that she's pregnant after a night of drunken passion with Gary Windass so when he seeks her out, demanding to know if he's the daddy, she finds herself denying it.
What's the story?
"Nicola tells Gary the dates don't tally and that the father must be her ex-boyfriend," Nicola Thorp told Soaplife. "She throws him off the scent because it was a one-night stand and she doesn't want to wreck his relationship with Sarah Platt." But then she has a change of heart. . .
What's happening in Coronation Street? See the latest soap storylines
Nicola Thorp has revealed all to Soaplife
Soaplife: Does Nicola actually have feelings for Gary?
Nicola Thorp: "Yes, but Gary has made his feelings clear – he loves Sarah. Nicola is attracted to him but sees him finally getting his life together and doesn't want to ruin that for him."
S: How does Gary react when Nicola tells him he's not the dad?
NT: "He's very relieved and Nicola can't help feeling a bit sad about that. But she thinks she has done the right thing because she wants to do what's best for Gary."
S: And then she changes her mind. Why?
NT: "Because she believes a child has a right to know its father and she is wrestling with the guilt of that, particularly due to her own story of paternity. She was lied to her whole life about who her real father was. She doesn't really want to do that to her own child. She tells Gary in the street and they have a big row. Gary's shattered."
S: Is she worried about the rest of the Street finding out?
NT: "Nicola really doesn't want Sarah to find out, she wants to be quite respectful despite going to bed with her boyfriend! The other people she is worried about are Gail, Audrey, Bethany - any of the Platts, in fact! She is quite scared of them. And also, she feels guilty about Anna not knowing that she has another grandchild on the way."
Coronation Street, ITV
Get the latest updates, reviews and unmissable series to watch and more!
Thank you for signing up to Whattowatch. You will receive a verification email shortly.
There was a problem. Please refresh the page and try again.