Jack P Shepherd on David Platt rape storyline: 'It will make a difference to David, knowing he isn't Josh's only victim'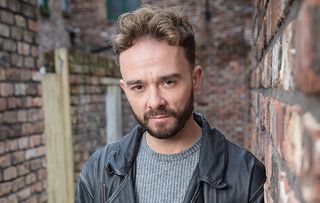 (Image credit: Mark Bruce)
Shona will discover next week that mechanic Josh has raped before
There are big developments in Corrie's rape storyline next week. While David is locked up in prison – a consequence of failing to turn up to court for his plea hearing for attacking Gary – Shona delves into Josh's past and finds out that her boyfriend isn't Josh's only victim.
Coronation Street star Jack P Shepherd talks about Shona's shock discovery, and why justice for David Platt means Josh owning up to his twisted crime...
What is the impact on David of his opening up to Shona?
"From the moment he told Shona and she believed him, everything changed for David. He realised that talking about it was the only way to move forward. Shona is so supportive and he is so grateful to have her on his side."
What is David's state of mind when he ends up in prison? Is he resigned to being locked up for a long time?
"This is a nightmare for David. He is locked up and isn't able to talk to anyone. He is terrified and there is one moment where his cell mate tries to wake him up and David lashes out at him. He is still suffering from the after effects of the rape but he won't let Shona tell anyone else about it."
Why is he still refusing to report the rape to police?
"The shame that David still feels about what happened to him is stopping him from going to the police. Telling Shona is one thin;, going public and letting the whole world know is another thing altogether. There is also the fact that there is no longer any evidence as David got rid of everything, so he knows it will be his word against Josh's."
Shona starts to investigate Josh's past, which leads her to discover that Josh has raped before. Will this be a game changer for David, knowing he is not alone?
"To be honest, David probably won't be best pleased that Shona is doing all this digging, as it could lead to the whole thing becoming public. But what Shona finds out will make a difference to David, to know that the isn't the only victim."
Justice comes in many forms. Do you think that for David, it's imperative that Josh gets sent to prison, or could justice for David be served another way?
"For David, it is about Josh owning up to what he has done; admitting that he raped David. He is still saying that it was consensual and he has done nothing wrong. The fact is that in real life, people like Josh do get away with what they have done; it isn't always neatly tied up."
You've had a lot of very emotional scenes – how do you manage to switch off after filming?
"After some of the most emotional scenes, I just make sure I take myself off for a short while to shake them off. I have to take myself into quite a dark place to get that emotion, so it is important to get yourself back in reality quickly."
What outcome would you like to see from this storyline, in terms of what happens to Josh and what happens to David, and his relationship with Shona?
"I am in the hands of the writers; I am not someone who likes to know what is coming up for my character. We don't know what is happening in real life, and I like to keep it that way for David, where possible."
Coronation Street continues on ITV.
Alison Slade has over 20 years of experience as a TV journalist and has spent the vast majority of that time as Soap Editor of TV Times magazine.
She is passionate about the ability of soaps to change the world by presenting important, issue-based stories about real people in a relatable way.
There are few soap actors that she hasn't interviewed over the years, and her expertise in the genre means she has been called upon as a judge numerous times for The British Soap Awards and the BAFTA TV Awards.
When she is not writing about soaps, watching soaps, or interviewing people who are in soaps, she loves going to the theatre, taking a long walk or pottering about at home, obsessing over Farrow and Ball paint.
Get the latest updates, reviews and unmissable series to watch and more!
Thank you for signing up to Whattowatch. You will receive a verification email shortly.
There was a problem. Please refresh the page and try again.