Johnny Connor cheats with Liz McDonald reveals Coronation Street star Richard Hawley!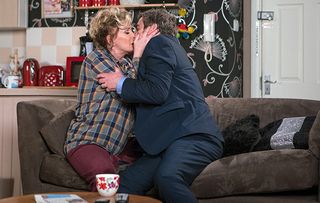 (Image credit: Andrew Boyce)
Coronation Street actor Richard Hawley explains why grief-stricken Johnny Connor turns to Liz McDonald and kisses her… will she kiss him back?
Grief-stricken Johnny Connor has been pushing away wife Jenny since his much-loved son Aidan took his own life. Instead it's Liz McDonald he's reaching out to in his hour of need, actor Richards Hawley tells Soaplife.
What's the story?
"Liz is an old friend and she has always been someone he can talk with – she has good wisdom but that is confused now, as without Johnny realising it, she has actually developed strong feelings for him," actor Richard Hawley tells Soaplife. In the week in which Johnny bids a final farewell to Aidan and also learns his son has left the family factory to Alya, could these feelings be reciprocated?
What's happening Coronation Street? See the latest soap storylines
Coronation Street star Richard Hawley talks to Soaplife about Johnny Connor's grief and kissing Liz McDonald…
Soaplife: Why has Johnny been pushing Jenny away?
Richard Hawley: "It's a classic case of lashing out at the person you're closest to. Deeply traumatised, Johnny's not doing it deliberately - but he can't stop it. It's an instinctive response to protect his own pain and vulnerability."
S: But he goes as far as telling her she's not welcome at the Chapel of Rest!
RH: "The trigger for banning Jenny is because she accidentally spills coffee on Aidan's suit which, to Johnny, is almost like her desecrating his son. His feelings are so heightened, it's impossible to reach him."
S: How does Johnny react when Imran and Alya tell him that Aidan has left her the factory?
RH: "For a moment he just can't take it on board but then there's an absolute explosion of grief and feelings, cracking off in every direction. He's furious when he realises Jenny and Carla knew about it but didn't tell him. But in a way, Johnny welcomes the fight as a distraction."
S: It's on the back of this that Johnny and Liz end up kissing, isn't it?
RH: "Yes. Johnny finds he can express himself with Liz. Somehow all the currents come together and they find a sense of warmth, intimacy and gentle nurturing. It's what Johnny's broken heart is crying out for but I don't actually think his feelings are real. It is of the moment and because he is grieving."
S: Is the funeral a turning point for Johnny?
RH: "Absolutely. Johnny realises he missed the signs that Aidan gave out throughout his life. If Johnny had recognised them, things could have been so different. That's an enormous revelation to him and I hope to the audience as well."
S: Did you ever think this storyline would have the impact that it has?
RH: "No. The reaction has been off the scale. I was out the other night and a lot of men - big tough guys - came up to me saying I'd had them in tears and they get it. We've opened up something with this storyline. That light is out there now so I hope it will go on and on, and people will talk and share their experiences. It has been an immense privilege to be involved with this storyline. It's probably the biggest of my life and I'm very proud of it."
Coronation Street continues on ITV.
Get the latest updates, reviews and unmissable series to watch and more!
Thank you for signing up to Whattowatch. You will receive a verification email shortly.
There was a problem. Please refresh the page and try again.