Coronation Street's Faye Brookes on the latest 'Kana' shock!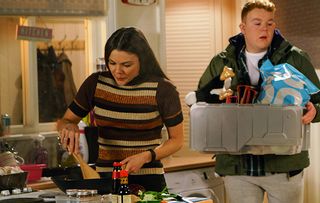 (Image credit: Mark Bruce)
Coronation Street star Faye Brookes has revealed that Kate Connor and Rana Nazir want to be with each other 'no matter what'. Poor Sophie!
Actress Faye Brookes has spoken to Soaplife about the latest twist in the Kate and Rana story. Rana's hubby Zeedan Nazir tries to push Kate and girlfriend Sophie Webster closer together to keep her from Rana. But it might not work…
What's the story?
Sophie is totally smitten with Kate, but she only has eyes for Rana. When Kate and Zeedan's sister Alya Nazir need a new flatmate, Zeedan encourages Sophie to move in, hoping to keep Kate well away from his wife Rana.
"She doesn't think it is a good idea," actress Faye Brookes told Soaplife. "She doesn't want to hurt Sophie's feelings, but she feels they need to take their time."
It looks like Zeedan's plan is set to backfire and instead might push Kate and Rana back together!
What's happening in Coronation Street? See the latest soap storylines.
Soaplife's interview with Faye Brookes
Soaplife: What's the current situation with Kate and Rana?
Faye Brookes: "They're not speaking. Kate is with Sophie, which everyone thinks is a rebound. Kate doesn't see it like that, but she feels like she might be breaking Sophie's heart if she was to lead her down the wrong path. She's holding back because she knows her true feelings are for Rana."
S: How do you think Zeedan pushing Sophie towards Kate will impact Kate and Rana?
FB: "Sophie has such a soft spot for Kate and Kate knows it, and she's taking advantage of it. So when Kate knows that Rana can see that they're together and she's jealous, it's only fuelling that fire. Kate needs to come clean sooner rather than later."
S: With Sophie obviously smitten, is Kate aware of the extent of Sophie's feelings for her?
FB: "Kate is similar to Sophie. She wears her heart on her sleeve and you always know what you're going to get with Sophie. Kate starts to see she's taking her down a misleading path and she doesn't want to send out mixed messages."
S: How do you think Kate will handle having two women fighting for her affection?
FB: "She doesn't realise that she's got two women fighting for her because her feelings are so strong for Rana. Kate doesn't realise her effect on people. She doesn't have the self-worth that every girl should."
S: How do you think Zeedan will react if Kate and Rana were to continue their relationship? We hear they declare their love for each other…
FB: "I don't think he'll have a leg to stand on. Ultimately, Kate and Rana want to be together no matter what!"
S: The fan reaction to 'Kana' has been huge. How are you enjoying this storyline?
FB: "We're overwhelmed but grateful at the same time. We knew it was going to be a hard story to tell and I can't get over the support we've had. I can only be thankful and I love the fact that the viewers love Kate and Rana."
Coronation Street, ITV
Get the latest updates, reviews and unmissable series to watch and more!
Thank you for signing up to Whattowatch. You will receive a verification email shortly.
There was a problem. Please refresh the page and try again.