Paddy McGuinness: 'Tyrone's trying to put the tent up and Dougie comes along and says: "Stand back, son!"'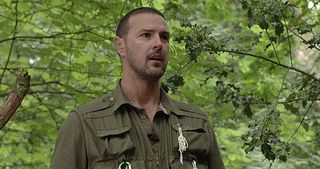 Let the pegs see the tent! Take Me Out host Paddy McGuinness (opens in new tab) is going wild in Wales as he joins a group of Corrie (opens in new tab) regulars for a summer camping trip.
Actor-comedian Paddy plays Dougie, the North-West's answer to Bear Grylls who pitches up when Fiz, Tyrone and begin their holiday under canvas. He tells TV Times about his Corrie guest role in the wilds of Wales. (ITV1, Mon, Wed and Fri)
What's your character Dougie like?
"He's one of those types. You know the sort. Tyrone is trying to put the tent up and Dougie comes along and says: 'Stand back, son!' When Fiz says she wants to be under canvas, Dougie is like, 'It's not canvas, it is polyester and 70 denier fabric.'"
You're a massive Corrie fan, so this must be a dream role for you, although you've had various offers from the show in the past, but have never had the time to commit until now...
"They wrote it for me which is really flattering. When the scripts came through I thought they were really funny. Dougie also gets to be with Beth, Kirk, Craig, Chesney, Sinead, Tyrone and Fiz who are all great characters.
This isn't the first time you've worked with Andy, who plays Kirk, is it?
"I remember Andy Whyment from Phoenix Nights. He was a young lad about town and had just landed the role of Kirk. He brought a girl out one night and told us he was on a date with her. I sat with him when we were filming the other week and he showed me a picture of his kids – with the same girl! That makes me feel old."
Do you enjoy camping?
"I prefer my home comforts. I have tried camping, but I love a shower and a working toilet. A while ago, I got a call asking me if I wanted to go out into the wilds with Bear Grylls. I said 'No, but thanks for asking.' I would do one night in a tent with a load of cider, but that would be it."
Take Me Out will be back for its eighth run later this year, but is acting your first love?
"It is the most fun and relaxing compared to doing a show like Take Me Out which is such a long day. When I finish it, I go home and lock myself in a dark room – just to get rid of the smell of Lambrini!"
You've been working on a sitcom since you finished filming with the Corrie cast. Tells us a bit about that.
"I got to thinking about these people who are worth £200 million. I have got this character who had a business empire in the nineties, but it all died off and now he is a bit of a dinosaur. It's almost the reverse of a Del Boy type. We're in the process of casting and I'm really excited about it."
Then you're doing another stand-up tour. What's it like touring?
"Touring is easier now I have two-year-old twins. I have got so much more to talk about – it's like therapy. If there are any lads in the audience who don't have kids, they'll leave wanting a vasectomy!"
Will your family be touring with you?
"No. If you have family with you when you're working it's too stressful. You're always worried about them, so I've arranged tour dates to make sure I can return home in the evenings to my wife and twins, Leo and Penelope."
Has being a dad spurred you on to work harder?
"I was never worried about money and all that. Then the kids came along and I think 'I have got to make sure they are provided for until they are 18 and I can kick them out.' However, what really drives me, is that if I don't keep going, I might end up in the jungle, eating a kangaroo's penis."
Get the latest updates, reviews and unmissable series to watch and more!
Thank you for signing up to Whattowatch. You will receive a verification email shortly.
There was a problem. Please refresh the page and try again.