Nicola Thorp: Nicola might wonder could my unborn baby kill like my dad Phelan?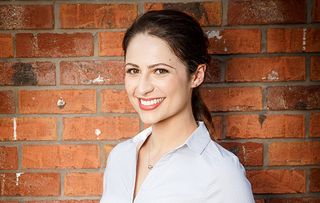 (Image credit: Mark Bruce)
Could Nicola and her unborn tot inherit the evil traits of Phelan?
If Phelan dies in Coronation Street, his daughter Nicola Rubinstein might fear he would live on in herself and her unborn baby, reckons actress Nicola Thorp, who plays her.
There'll be a whole heap of emotions for Nicola, if she discovers that not only is her father dead, but he was also a ruthless serial killer as Phelan and Eileen look set for a dramatic showdown…
"Nicola's gradually realised that he is a monster," says Nicola Thorp, "so I think one side of her will be relieved.
"But on the other hand, she's a social worker and she would also like to think that people can be saved from themselves. She'd consider herself as not having done her job properly.
And, of course, Phelan would live on not just in Nicola, but in her baby. Could the unborn tot inherit his grandad's evil traits?
"Maybe there'll be some doubts over how that kind of personality might be genetic in some away," adds Nicola, who also spoke to us about her part in this year's Sport Relief. "But there's certainly a lot of scope for storylines given that the baby has Phelan's genes.
"But the same can be said of Nicola. It wouldn't surprise me if she started questioning herself, and thinking, 'I wonder if his personality is party of my genetic code?'"
Coronation Street continues on ITV.
Get the latest updates, reviews and unmissable series to watch and more!
Thank you for signing up to Whattowatch. You will receive a verification email shortly.
There was a problem. Please refresh the page and try again.