'Sally thinks if she believes it enough, Tim will be at the wedding,' says Corrie's Sally Dynevor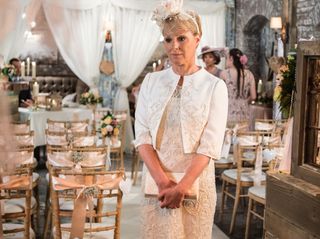 (Image credit: Joseph Scanlon)
Coronation Street star Sally Dynevor (opens in new tab) reveals to Soaplife how Sally Webster refuses to believe her wedding to Tim won't happen…
Tim was so devastated to learn that Sally had kissed Kevin that he called off their wedding - but Sally absolutely refuses to believe it.
"Sally persistently tells Tim she'll be waiting in the bistro to marry him as originally planned," says Sally Dynevor. "She also keeps telling him how much she loves him and how sorry she is…"
Bet Sally regrets that kiss!
"She really does but it was more about her excitement over Kevin [Michael Le Vell (opens in new tab)] offering her the money to buy the factory than anything else. As soon as the kiss happened, Sally realised it shouldn't have."
Why can't Tim forgive Sally?
"Tim [Joe Duttine (opens in new tab)] is quite moral and everything's quite simple for him. The way he sees it, Sally betrayed him – and with his best friend, too. Tim's very sad but can't move past this. Sally tries everything to talk him round – Kevin and Sophie [Brooke Vincent (opens in new tab)] also try – but Tim is determined not to go through with the wedding."
Sally won't accept this, though. Right?
"Sally really loves Tim and this has made her realise how much. She's convinced he will forgive her. Tim's favourite film is 'Field of Dreams' and there's a quote from it that goes, 'If you build it I will come'. Sally thinks if she believes enough then Tim will be there."
And is he?
"Tim says some really horrible things to Sally in the Rovers and is adamant he won't turn up."
What happens on the day of the wedding?
"Sally's in denial. Everyone tells her it's not happening, that Tim won't turn up and that they're really concerned about her, but Sally is determined Tim is going to show. She goes to the bistro and waits and waits... She's beside herself when Tim isn't there and doesn't turn up."
At what point does it sink in that Tim's a no-show?
"After quite a while. It finally dawns on Sally that Tim meant it when he said he didn't want to go ahead with the wedding."
Do people feel sorry for Sally?
"Sally irritates people, but she's harmless and deep down people do like her. Yes, I do think people feel sorry for her."
Would you like to see Tim give Sally a second chance?
"I am really sad for Sally that the wedding isn't looking likely. She and Tim are such a good couple - even though they are so different; I think that's why they work so well. It would be so sad for this to be the end of them."
Coronation Street (opens in new tab), ITV
Get the latest updates, reviews and unmissable series to watch and more!
Thank you for signing up to Whattowatch. You will receive a verification email shortly.
There was a problem. Please refresh the page and try again.