Coronation Street's Sam Aston: 'Chesney has a panic attack and leaves the girls on the bus!'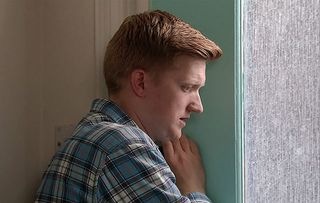 Chesney Battersby-Brown is in a bad way in Corrie, after being stabbed at the Bistro and he can't control his anxiety and panic attacks, explains Sam Aston
It's becoming increasingly clear to his loved ones that Chesney Battersby-Brown is in a bad place, but he's finding it very difficult to open up to them in Coronation Street.
"It's because he is male and guys tend to be more secretive about health issues and emotions, even with the people closest to them," Sam Aston explained to Soaplife. "Also, he is embarrassed by it and is questioning why he is getting like this."
As a result, Chesney puts his life – and those of others – in danger.
How do Sinead and Fiz work out that Chesney has a big problem? "Fiz [Jennie McAlpine] and Sinead [Katie McGlynn] definitely know that something is not right because he keeps making excuses, like he asks Sinead to go and get Hope and Ruby for him when he offers to look after them. His sister and girlfriend know something is up."
But Chesney does go outside to take the girls on a bus, right? "Yes – and he has a panic attack on the bus and just has to get off. The doors won't open so he kicks and bangs the doors to open them. When they do open, he sprints off and has no idea where he's going. It's not till later that he realises he's left the girls on the bus."
What state is Chesney is in when he is found at the allotment? "Very fragile. He's severely embarrassed and feels terrible about the girls – anything could have happened and it would have all fallen on his shoulders. Tyrone tells him to get on with it, but he doesn't think that he can."
Do you think this could be the thing that brings Chesney and Sinead back together? "Yes I do, but for how long, I don't know. It's a strange relationship because Chesney is in such a bad state right now. Sinead does feel like she needs to be there for him now, when he needs her most. They do love each other, but when the dust settles, who knows?"
Coronation Street, ITV
Get the latest updates, reviews and unmissable series to watch and more!
Thank you for signing up to Whattowatch. You will receive a verification email shortly.
There was a problem. Please refresh the page and try again.