Samia Ghadie on Corrie shocker: 'Maria introduces Pablo as her husband to Luke!'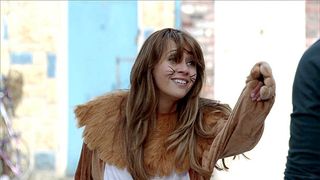 Coronation Street's Maria returns from Cyprus with a secret next week… she's got a new husband! Samia Ghadie reveals all to Soaplife…
Ummm, Maria's got some explaining to do…
"What's happened is she's married a gay guy called Pablo [Shai Matheson] from Argentina so he could get a visa."
First a gay boyfriend, now a gay husband!
"I know. I imagine quite a lot of alcohol was involved. The whole reason Maria has married Pablo is because he's in love with his boyfriend, who viewers don't get to meet but who lives in the UK. Maria took pity on Pablo and came to his rescue."
What about Luke, who's been waiting faithfully for Maria?
"He's fuming, as you might expect. He comes in the bistro to surprise her with a big bouquet of flowers and she's there having lunch with Pablo! Obviously, at first, Luke [Dean Fagan] doesn't know Pablo's gay and presumes he's a boyfriend Maria's brought back from Cyprus. Then she introduces Pablo as her husband! Luke's gobsmacked!"
No wonder!
"Maria keeps telling him she can explain, but then she doesn't really. She can't justify why she's done what she's done to him."
Is that why she kept it a secret?
"Yes. She knew Luke wouldn't be very happy about it."
What does she do to try to win Luke round?
"It's a weird one, which ends up with me dressed like a lion… It starts because one of Audrey's clients is in the Weatherfield Amateur Dramatics, so Audrey has been telling her how to do her hair like a lion. She brings the costume in and Maria ends up wearing it. It's basically just an excuse to get me in a lion outfit and make me look stupid!"
Maria makes a fool of herself to make up for making a fool of Luke…
How does Luke react to her new look?
"Maria's trying to apologise to Luke. It's like she's saying, 'I've made you look stupid by coming back with a gay husband, so now I'm going to make myself look stupid!' That's the thinking. She still wants to be in a relationship with Luke."
Coronation Street, ITV
Get the What to Watch Newsletter
The latest updates, reviews and unmissable series to watch and more!