Sarah's grief…and disbelief when she's told Gary is dead! Corrie's Tina O'Brien reveals all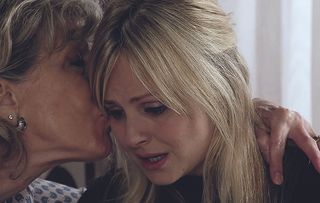 Sarah Platt can't quite believe it when she's told that Gary Windass has died, Tina O'Brien tells Soaplife
Sarah Platt has been worried sick about her bloke Gary Windass's dangerous job in the Ukraine since it started and when she receives a phone call from his work mate, Joe, her worst fears are realised, says Tina O'Brien...
What's the story?
"Joe tells Sarah there's been an explosion in the Ukraine and that Gary's been killed," Tina O'Brien told Soaplife. "Sarah's distraught but can't bring herself to believe it because she's convinced she would have sensed if anything had happened to him…"
What's happening in Corrie? See the latest soap storyline
Tina O'Brien reveals all to Soaplife about Sarah's shock
Soaplife: Is it really denial that's makes Sarah refuse to believe Gary's dead?
Tina O'Brien: "She needs proof before she'll believe it. David tries to find out some information and discovers that one body has been found. Sarah still thinks it might not be Gary because there were loads of men working out there."
S: But…
TO'B: "David explains that a St Christopher medal has been found and that's when Sarah breaks down… She gave Gary a St Christopher medallion just before he left. She's absolutely devastated, totally in shock. She thinks it's the end of the world."
S: No wonder! Sarah and Gary were about to move in together!
TO'B: "Yes, as far as she was concerned he was 'the one' and they were going to get married one day. He was really good to her and seemed to really love her so she was really happy and content."
S: And Sarah has to tell Anna! What happens?
TO'B: "Gary's mum is beside herself. She wants to be with Faye but of course she can't because she is in prison. She breaks down and has to be held back because she tries to get out of the room she's in."
S: This all leads to David discovering fathered Nicola's baby. Should he tell her?
TO'B: "That's so tough! Under normal circumstances, yes, he should be honest with her but the fact that she has just received this news about Gary. . . Why upset her more and make the pain even worse than it is already? Sarah truly believes that Gary has been faithful and loyal to her. The fact that he completely broke that trust by not only sleeping with another woman but getting her pregnant would destroy Sarah. She has had a tough time but as far as she is concerned Gary is her rock."
Coronation Street, ITV
Get the latest updates, reviews and unmissable series to watch and more!
Thank you for signing up to Whattowatch. You will receive a verification email shortly.
There was a problem. Please refresh the page and try again.