'Todd gets Jason and Sarah off the hook for Callum's murder,' says Corrie's Bruno Langley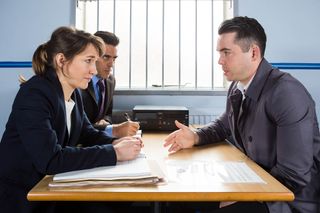 (Image credit: Mark Bruce)
Corrie's Todd frames Jason's late dad, Tony, as Callum's killer to protect Sarah. Bruno Langley (opens in new tab) reveals all to Soaplife…
So Todd thinks Sarah killed Callum?
"Yes. So, he tells the police Tony did it. Todd makes out Tony confessed to the murder on the night it happened, but that Todd didn't believe it until the body was discovered."
Why does Todd want to protect Sarah?
"They've become very close because they've discussed their past and their baby, Billy, who didn't survive. Todd feels protective towards Sarah [Tina O'Brien (opens in new tab)], especially now he's the godfather of her son, Harry. But, as Todd sees it, the Tony plan also protects his brother, Jason."
So Todd's got the whole story worked out?
"It makes perfect sense to Todd. Tony [Terence Maynard (opens in new tab)] and Callum had a history, and Tony had access to the Platt's garage conversion. The police don't exactly take the bait in the way Todd hopes, though. In fact, he could have dropped himself in it!"
Do Jason and Eileen believe Todd?
"It's strange. Jason doesn't come down on one side or the other, but, in his heart, he knows his dad didn't do it. He's keeping his mouth shut at the moment, but he's a bit annoyed with Todd for telling everyone it was Tony.
"I don't know if Eileen [Sue Cleaver (opens in new tab)] believes it deep down, but she warns Todd he'd better be telling the truth."
Is this the most confusing storyline you've been involved in?
"Yes. Todd was quite confused about his sexuality, but that was nothing compared with this. I don't know yet who goes to jail or who gets blamed for it. I double check with the director to make sure I know what's going on, even when I think I already know!"
Ryan Thomas, who plays Jason, is leaving. You don't have any plans to go, do you?
"Not at all. I'm planning on staying around for a while. I'll really miss Ryan. We've become like brothers in real life. The door's been left open for him, though, so he might be back at some point."
Coronation Street (opens in new tab), ITV
Get the What to Watch Newsletter
The latest updates, reviews and unmissable series to watch and more!