Georgia Taylor: Toyah Battersby confesses her baby secret to Peter!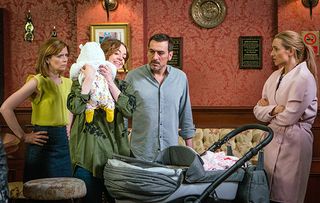 (Image credit: Andrew Boyce)
Coronation Street star Georgia Taylor warns the fall-out is 'horrendous' when Toyah tells Peter the truth about baby Susie…
Tensions are such at The Rovers that Toyah Battersby decides she can't go on telling lie after lie about the circumstances of baby Susie's birth. It's time to tell Peter Barlow the truth…
What's the story?
"It's clear that Eva Price is finding it increasingly difficult to let go of her daughter especially as Susie is the only part of the baby's dad, Aidan Connor, that she has left," actress Georgia Taylor tells Soaplife. "Toyah expects Eva to blurt out the truth at any moment and so she decides to tell Peter herself." But how will Peter react and can he forgive Toyah for lying to him?
What's happening in Coronation Street?
Georgia Taylor's interview with Soaplife about Toyah Battersby's decision
Soaplife: How is Eva's protectiveness towards Susie making itself felt?
Georgia Taylor: "Eva goes ballistic when she sees Simon smoking over Susie's pram when he's taken her for a walk. She lays in to Peter about it but Peter goes on the defensive for Simon so Eva and Peter are at loggerheads. Toyah manages to calm the drama but the tension's still bubbling away."
S: Simon finds a hospital photo of Eva and Susie and shows it to Peter… what happens?
GT: "As far as Toyah is concerned, Eva said she was going to get rid of that photo so the fact that she hasn't proves how attached she is. Eva's clearly heartbroken. It all contributes towards Toyah deciding to tell Peter the truth."
S: Is there a specific moment that makes Toyah want to come clean?
GT: "No, there are a number of factors. The web of lies she has created has been going on for months plus as a new mum she is literally exhausted as well as emotionally exhausted."
S: Does Toyah have any idea how Peter will react?
GT: "It's like ripping of a plaster and she just knows in that moment, that it is the right thing to do. She doesn't know what the fallout is going to be but it turns out to be catastrophic - even worse than she ever thought it could be."
S: How does Toyah feel after she has talked to Peter?
GT: "It's horrendous because this isn't just about Toyah telling Peter that Susie is not his child, what she has also failed to tell Peter is that their baby died so this is a real double-whammy. For Peter to try and process all of this information - the fact that their child died months ago and he hasn't been given the opportunity to grieve for their baby, the betrayal, the anger, the hurt, the grief… It just explodes in him and he is in so much pain."
S: She's risking everything revealing the truth, isn't she?
GT: "Yes, her relationship, Susie, the business even. Everything. Toyah and Peter have had their ups and downs but this is something else. It's really heart-breaking to see because, for once, Peter hasn't done anything wrong."
Coronation Street continues on ITV.
Get the What to Watch Newsletter
The latest updates, reviews and unmissable series to watch and more!