Kate Ford reveals Tracy Barlow's festive fling with old flame Steve in Coronation Street!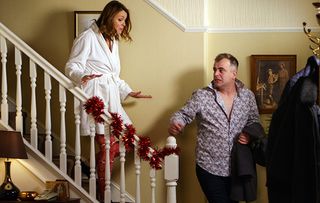 (Image credit: Mark Bruce)
All Tracy Barlow wants for a Christmas is a man… so she and old flame Steve McDonald end up in bed together, reveals Coronation Street actress Kate Ford
For Tracy Barlow, Christmas wouldn't be Christmas without a man. But what's a girl to do when there's no one new on the horizon? Have a festive fling with an old flame, that's what says Coronation Street star Kate Ford.
What's the story?
"Tracy and Steve have been getting closer," actress Kate Ford told Soaplife. "But at the carol concert, they smuggle in a hip flask, get drunk and end up spending the night together!" Next day, Tracy sneaks Steve out of Number 1. But their daughter Amy isn't best pleased to discover her parents may be back together – even if it is just for Christmas…
What's happening in Coronation Street? See the latest soap storylines
Kate Ford reveals all to Soaplife about Tracy Barlow's festive fling with Steve McDonald in Coronation Street
Soaplife: Is it just a lust thing between Tracy and Steve?
Kate Ford: "Back in the day, Tracy was madly in love with Steve, but that was years ago. Now it's just sex, but she is less than impressed to get a text from Steve saying last night was a mistake.
SL: That's not very gentlemanly of him!
KF: "It turns out Steve knows nothing about the text and when Amy announces she thinks it's a very bad idea if her mum and dad get back together, Tracy realises what must have happened."
SL: Why is Amy so against them being together?
KF: "Her parents have never really been together so it seems very weird to her. Amy also likes playing Steve and Tracy off against each other. She won't be able to do that if they're an item."
SL: Is there any part of Tracy that would like a proper relationship with Steve?
KF: "I don't know about a relationship, but she likes being with someone over Christmas and New Year. It's also a big ego boost, especially after she saw Steve's ideal internet date looked very much like her! Tracy feels like she's getting one up on all the other women who've recently figured in Steve's life such as Michelle Connor and Leanne Battersby. And there must be more!"
SL: Steve still has feelings for Michelle, doesn't he?
KF: "Tracy isn't happy about that. She and Steve go to the Bistro and Steve keeps looking at Michelle. What's even more irritating is that, later on, Tracy discovers Steve's given Michelle £10,000. He's never given her anything like that – and they have a child."
SL: What's Leanne's reaction? And Steve's mum, Liz McDonald's?
KF: "Leanne's in shock, while I can't imagine Liz will be happy after Tracy had that affair with Tony Stewart, Liz's boyfriend. No one will think it can last and that it's just a mad fling. If it's not, though, Tracy will be like baby Oliver's stepmother and there's a lot of mileage in that."
SL: Maybe Tracy will fall pregnant?
KF: "She wouldn't like that! She found motherhood very boring when Amy was a baby and it would really bore her to have another baby. Now she can pretty much do what with who she wants – and, right now, that's Steve!"
Get the What to Watch Newsletter
The latest updates, reviews and unmissable series to watch and more!