Tracy finds out Carla slept with Robert and 'she's absolutely raging', says Corrie's Kate Ford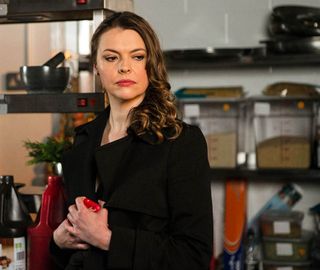 (Image credit: Joseph Scanlon)
Coronation Street's Tracy has revenge in mind when she finds out about Robert and Carla's one night-stand, Kate Ford reveals to Soaplife…
Tracy has a hot plan to seduce Robert at the bistro, but it goes cold when she overhears Carla and Robert talking about their one-night stand.
"Tracy's absolutely raging!" Kate says. "She can't allow herself to feel wronged again by this woman!"
Tracy obviously puts all the blame on Carla, then?
"Carla's her nemesis and, to Tracy, this is yet another example of Carla [Alison King] ruining her life. She's quick to forget about all the things she's done to Carla in the past. As regards to Robert, Tracy will bide her time before taking revenge on him."
What does Tracy do?
"After she's heard the conversation between Carla and Robert [Tristan Gemmill], her mind is racing and she can't think straight. But she knows she can't let Carla get away with this. Robert leaves, then Steph's ex, Jamie [James Atherton], and a mate of his, suddenly appear to rob the bistro."
And?
"Tracy quietly leaves Carla to the mercy of the robbers. There's no way Tracy's going to stay and sacrifice herself for Carla, given what she's just heard."
Does Tracy feel at all guilty?
"Deep down she probably knows she shouldn't have left Carla, but she's selfish and she isn't about to put herself in any danger. But leaving Carla means she can't confront Robert about his night with Carla. If she does, he'll realise she was in the bistro and left Carla alone with the thugs."
So?
"Tract will still want to get even – and it'll be interesting to see how she makes Carla pay…"
Coronation Street, ITV
Get the latest updates, reviews and unmissable series to watch and more!
Thank you for signing up to Whattowatch. You will receive a verification email shortly.
There was a problem. Please refresh the page and try again.