Robert collapses, Shona makes a big discovery and Phelan is alive!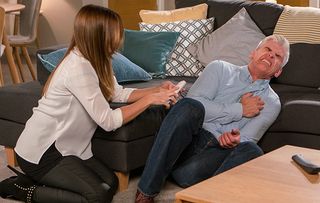 (Image credit: Andrew Boyce)
It's a hell of a week in Wetherfield as Robert collapses, Shona gets the dirt on Josh, Nicola has an emergency cesarean, and evil Phelan is revealed to be alive...
As David gets a suspended sentence for his attack on Gary, Shona discovers Josh has raped before, causing David to square up to his attacker. Eileen's tormentor is also finally revealed – it's her killer husband Phelan, and Gary has tracked him down in Wales.
Elsewhere, Robert collapses with chest pains, leaving Michelle terrified; Fiz is jealous over Tyrone and Abi's rapport; and Nicola has an emergency cesarean.
As Robert and Michelle get ready for a night out…
Robert collapses clutching his chest, and a terrified Michelle calls for ambulance.
Eileen is horrified to see two men carrying furniture out of her home. They explain that someone called Pat booked the clearance and gave them a key.
Fiz is jealous when she clocks the rapport between Tyrone and Abi.
Josh gets worried when he learns that Shona has been at the gym asking questions.
Shona dupes Josh's old work colleague Dec into meeting up…
… and she is horrified to realise that Josh raped Dec too!
When Nicola shows Gary a message from her new online friend, he's worried to realise the 'friend' is based in Abergele.
Meanwhile, Rana begs Zeedan to change his mind about leaving.
Nicola stumbles and falls down the stairs…
Having heard the noise Fiz rushes round.
…and finds Nicola lying unconscious at the foot of the stairs.
Nicola is then rushed off to hospital for an emergency cesarean.
Later in the week, Gary and Joe pull up at the campsite in Abergele.
…where Gary spots Pat Phelan.
A furious David storms into the cafe to square up with his attacker Josh.
And as Alya demands to know what's going on…
Josh makes out it was an unprovoked attack, but Alya is suspicious. Watch all the action unfold in Coronation Street from Monday 21st May.
Get the What to Watch Newsletter
The latest updates, reviews and unmissable series to watch and more!