Dynasty star Emma Samms on her Doctors return as Jimmi's ex, Amanda: 'She might turn his life upside down again'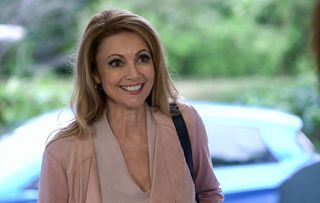 (Image credit: BBC)
Emma Samms set to cause chaos in Doctors!
Looks like poor Jimmi's headed for more trouble as Emma Samms makes her return to Doctors as his first wife…
Mill medic Emma Reid has a new "homeB&B" guest next week in the shape of the glamorous Mandy. But what Emma doesn't realise is that "Mandy" is in fact Amanda Vardalis, formerly Clay – her colleague Jimmi's first wife!
Why is Amanda lying about her identity? And why has she returned to Letherbridge?
We caught up with actress Emma Samms – who was last in Doctors as Amanda in 2005 – to find out more…
The last time we saw Amanda was in 2005. What has she been doing since then?
"She was in a very happy relationship, but he died unexpectedly, so she's now both destitute and really sad. Her late husband's children have cut her out of his will. They never accepted her; they wouldn't even let her help with the funeral. So she's in a bad place and comes back because she needs help."
Has she grown used to having a certain lifestyle?
"Her husband wasn't incredibly wealthy, but I don't think she's had to think about money for a while. And she's been working as a massage therapist, so she's been contributing.
"She goes from having everything she needs to having absolutely nothing, and then she finds she has arthritis in her hand, so can't even work in the one job she knows."
What does she want from Jimmi?
"She hasn't come back for money. It's obviously crossed her mind, but I think mostly she just needs an old friend; she needs some emotional support. But I don't want to give too much away!"
How does Jimmi react to seeing her again?
"It's tricky at first, let's put it that way! He's not at all pleased, especially by the way she's ended up doing things. It's something she spirals into and it's not at all ideal.
Jimmi's a much-loved character, and I realise that Amanda isn't necessarily going to be very popular. There's an element of her maybe turning his life upside down again."
How did the rest of the cast react to having you on set? Did they ask you questions about your time on Dynasty?
"There were a couple of questions, but we were talking about stuff that we're doing now - and it does feel like that was a long time ago."
Would you consider another stint in Doctors, or a permanent return?
"I would love to come back and do more, but they would be contractually obliged to let me work with Adrian (Lewis Morgan, who plays Jimmi). We are exactly suited in terms of work style– we take it very seriously and very professionally but we laugh a lot, too. I described him on Twitter as my 'Goldilocks' co-star."
What's next for you?
"I'm finishing a script for a radio drama that I was halfway through when I started Doctors. I did another radio drama a few years ago and was thrilled to win bronze at the New York International Radio Awards. I'm also a guest speaker on the Queen Mary II as it goes around the Norwegian Fjords, so I'm very much looking forward to that."
Are you still involved in the Starlight Foundation? (Emma co-founded the charity in 1983 to helps seriously ill children and their families – a response to losing her brother Jamie when he was nine, from aplastic anemia.)
"Absolutely; the best part of my career is that I've been able to be useful for something like that. There are so many children that we've been able to help in so many different ways, with the entertainment in hospitals as well as granting wishes. Every single children's ward in the UK has one of our Fun Centres, with a television screen and games to distract them. They work incredibly well."
Alison Slade has over 20 years of experience as a TV journalist and has spent the vast majority of that time as Soap Editor of TV Times magazine.
She is passionate about the ability of soaps to change the world by presenting important, issue-based stories about real people in a relatable way.
There are few soap actors that she hasn't interviewed over the years, and her expertise in the genre means she has been called upon as a judge numerous times for The British Soap Awards and the BAFTA TV Awards.
When she is not writing about soaps, watching soaps, or interviewing people who are in soaps, she loves going to the theatre, taking a long walk or pottering about at home, obsessing over Farrow and Ball paint.
Thank you for signing up to Whattowatch. You will receive a verification email shortly.
There was a problem. Please refresh the page and try again.