Babe puts on a Shakespearean Twelfth Night in The Vic!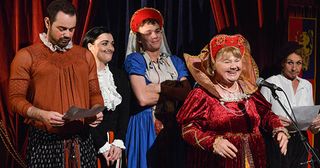 Aunt Babe marks the end of Christmas in EastEnders with a Twelfth Night evening at The Vic
Shakespeare at The Vic? The Old Vic, maybe, but it seems unlikely that theatre-lovers would trek to the Queen Vic to witness a scene from Twelfth Night performed by the Carters. But Aunt Babe still hopes to draw in the punters when she decides to stage a special themed night at the pub to mark the end of Christmas.
Only, not everyone wants the night to be a success in EastEnders…
When it comes to money-making ideas, Aunt Babe is your go-to woman these days
But is her novelty Twelfth Night evening a step too far?
But is her novelty Twelfth Night evening a step too far?
Despite Shirley's doubts over whether the event is being staged on the right night, locals such as Johnny give it everything they've got!
But is someone trying to wreck Babe's evening by causing mischief?
It looks like Babe and Whitney are keeping a close eye on Johnny…
Could he be the trouble-maker? And what will the locals make of the night? Watch the Shakespearean drama unfold on EastEnders from New Year's Day
Get the latest updates, reviews and unmissable series to watch and more!
Thank you for signing up to Whattowatch. You will receive a verification email shortly.
There was a problem. Please refresh the page and try again.