EastEnders' Nicola on Mandy's big exit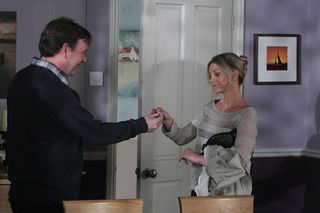 (Image credit: BBC)
EastEnders' Nicola Stapleton is leaving Walford again. But the burning question Soaplife wants an answer to is: will she depart as Mandy Salter - or Mandy Beale? Mandy and Ian's engagement has always been hanging by a thread, which doesn't bode well for the wedding that Mandy starts organising. And reports have revealed their big day will be a disaster with the cliffhanger being whether or not Mandy will have said that all-important 'I do' before she leaves. And the future post-Mandy is bleak for Ian with an EastEnders insider quoted as saying: "Bosses kept Nicola on for longer than expected as they're building up a big storyline for Ian." Will Mandy just break his heart or bleed him dry is the way it seems to be going... Mandy's mum is back. Is that good news? "Mandy's not pleased to see her at all. Lorraine tells Mandy she's unwell but Mandy doesn't believe her and tells her to go. When Lorraine shows up again, though, she seems to be in pain and Mandy takes her home. Ian is furious. He says that he doesn't want Lorraine in the house and forbids Mandy from seeing her." Does Mandy do what Ian wants? "Nearly. But just as Mandy's about to turn her back on Lorraine she collapses and is taken to hospital." What's wrong with her? "We don't know, but it's drink-related." Does Mandy confide in Ian? "She can't. She's put in this really awful position. Ian doesn't want Mandy to visit her mum, but she ignores him and goes. When he finds out, he's really angry." Does Lorraine appreciate Mandy's support? "Not at all. Lorraine's vile to her. She tells Mandy she never loved her. That was really emotional to film. There were a lot of tears. Mandy tries her hardest, but she's properly defeated by it all." And her wedding plans aren't going well either. Does she know Ian's running out of money? "He tells her a honeymoon cruise is too expensive, but after another row he feels guilty and offers to splash out on the cruise." Does Mandy walk out on Ian on their wedding day? "Put it this way, I'm not so sure they're going to have a happy ending." Have you enjoyed your return? "I have. I have so much fun with Adam Woodyatt [Ian] on set. I've had a great time on EastEnders, working with friends old and new. And if Mandy returns, let's hope it doesn't take another 17 years!"
Get the latest updates, reviews and unmissable series to watch and more!
Thank you for signing up to Whattowatch. You will receive a verification email shortly.
There was a problem. Please refresh the page and try again.