EastEnders finally reveals whether Phil or Keanu is Sharon's baby father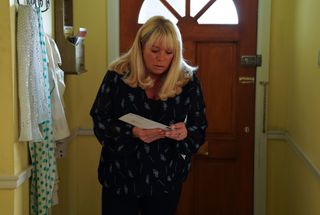 The 'Who's the daddy?' mystery has finally been solved...
Tonight's episode of EastEnders finally answered the question on every fan's lips – no, not "Why does no-one own a washing machine?" but "Who is the father of Sharon's baby?"
And the "lucky" fella? Surprise surprise, it isn't Sharon's husband Phil, but her former teenage lover, Keanu. Which means the muscly mechanic has done the double and got two Mitchell women up the duff – the other, of course, being Sharon's stepdaughter, Louise.
The mystery was solved when Sharon received the results of a pre-natal DNA test carried out on her unborn baby. Reading the letter, she was horrified to be informed that "the alleged father, Philip Mitchell, is excluded as the biological father of the unborn baby." Assuming that Shazbang hasn't a secret fling with anyone else in the square, it meant Keanu was the daddy.
Naturally, Sharon kept quiet about the shock revelation, and when she subsequently broke down in tears, she lied to her family that it was because she was overwhelmed with relief that blood tests carried out on her nipper had come back fine.
More: Shock romance for two unlikely Walford residents
But it can only be a matter of time before Phil stumbles on the truth, thanks to a combination of Sharon's carelessness, and young Bailey Baker's current obsession with recycling.
Sharon was later seen ripping up the results and putting them in a plastic bag, which she disposed of in a bin on the square. Soon, Bailey was poking around in said bin with her plastic grabber, and leafing through the contents in a valiant effort to save the planet.
When she and big brother Keegan noticed that a letter to the Mitchell house had been carelessly thrown away, rather than recycled, the pair decided to teach old man Mitchell a lesson, and dumped the bag and its contents in the Arches.
Will Phil find the results in the abandoned refuse? And if so, what will he do if he discovers who really got Shazbang pregnant?
EastEnders continues on BBC1.
Get the latest updates, reviews and unmissable series to watch and more!
Thank you for signing up to Whattowatch. You will receive a verification email shortly.
There was a problem. Please refresh the page and try again.