EastEnders: Sharon's wedding is 'full of tragedy' when her gun goes off, reveals Letitia Dean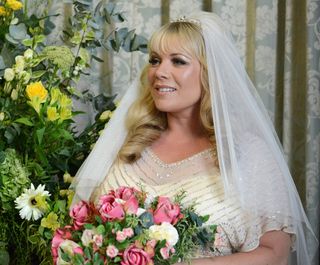 (Image credit: BBC/Kieron McCarron)
EastEnders' Letitia Dean tells Soaplife that Sharon's wedding is a day of tears and tragedy - especially after that gun resurfaces…
"Sharon loves a wedding and she feels the time is right," Letitia (opens in new tab) says to Soaplife. "But Sharon's weddings are always eventful and there's going to be a bit of drama." A bit?!
How is Sharon feeling on the morning of the wedding?
"She's looking forward to it and she wants to have that security and a father figure for Denny. Phil's one of her true loves. They're just right for each other, no matter what comes and goes in between. Sharon's convinced this is going to be her last wedding."
What happens at the register office?
"Sharon doesn't turn up on time and leaves Phil waiting. Ian [Adam Woodyatt (opens in new tab)] come back from America and he tries to talk Sharon out of marrying Phil. While Sharon is with Ian, Shirley shows up at the register office and tries to change Phil's mind, too."
Does Shirley win Phil (Steve McFadden (opens in new tab)) round?
"I can't tell you what happens, but nothing will go smoothly. All day, though, Sharon's absolutely determined to go through with this wedding, especially after all she and Phil have been through. Whatever is said and whatever happens, that's her goal."
What happens when the wedding party arrives back at The Vic?
"Aunt Sal [Anna Karen (opens in new tab)] turns up and there are a few harsh words, but Sharon's just relieved that Peggy doesn't turn up - that would be her worst nightmare. Everyone is gossiping about Sharon, but it's water off a duck's back to her."
Then Shirley (Linda Henry (opens in new tab)) shows up with that gun!
"Sharon's really shocked. It's the gun she got to protect herself after she was attacked. Shirley's found it in her bag."
And someone fires the gun… Is anyone hurt?
"There will be chaos, tragedy and a lot of tears. If somebody does get hurt, then the guilt will be enormous for Sharon and there are bound to be far-reaching consequences."
EastEnders (opens in new tab), BBC1. Click here (opens in new tab) for dates and times.
Get the latest updates, reviews and unmissable series to watch and more!
Thank you for signing up to Whattowatch. You will receive a verification email shortly.
There was a problem. Please refresh the page and try again.