EastEnders star Tanya Franks says her and Jake Wood have great 'chemistry' as Rainie and Max Branning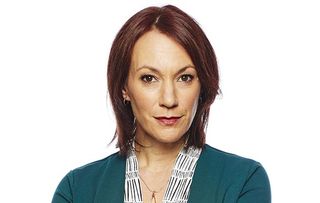 (Image credit: BBC / Nicky Johnston)
Tanya Franks says she adores Rainie, although she's not sure she could support her in real life!
EastEnders star Tanya Franks has described the great on screen chemistry she has with Jake Wood as Rainie and Max Branning.
The 51-year-old actress also said her and Jake were "surprised" by the storyline that saw Rainie and Max getting together.
"We have a lot of fun," she told Lorraine. "We really do get on and we were both so surprised by this storyline. We can't stop laughing about it. We surprised each other. I think the chemistry has really worked."
Tanya went on to say that what had started out as a scam marriage is now developing into something deeper between the pair.
Asked if it was genuine love, she replied: "There is now. They're two lonely characters. Neither of them are liked by anyone else in the Square, really, they don't have an ally other than in each other.
"And therefore they have to trust each other. This did start out as a scam marriage, but the intention now is to build this family and only time will tell if they can actually hold that together."
But, those hoping Rainie and Max are going to live happily ever after are likely to be left disappointed.
"There could well be some very rocky roads ahead," said Tanya, in a strong hint that things are about to go wrong in tonight's episode.
Tanya, who also starred in the popular BBC2 sitcom Mum, explained how she loved playing Rainie.
"The thing for me is that she's so different from me on so many levels. She is so interesting for me to explore and I'm finding a whole new journey with her now. I didn't know what she was like as a clean human being.
"As someone who has beat her addiction to the point now where she can manage her life, actually potentially be a responsible family member. However, she is still fundamentally an addict.
"And she has an addictive personality and so she can jeopardise everything at anytime.
"I love her. I don't know if I'd be very good at supporting her in real life!"
EastEnders continues tonight on BBC1 at 7.30pm.
Get the latest updates, reviews and unmissable series to watch and more!
Thank you for signing up to Whattowatch. You will receive a verification email shortly.
There was a problem. Please refresh the page and try again.