EastEnders star Tanya Franks has the lowdown on mega bust-up between Max and Rainie!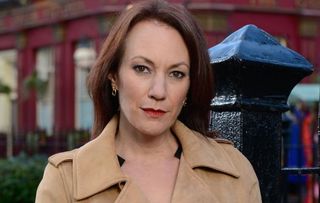 Rainie is crushed when Max tells his brother Jack their marriage is a sham. Will Rainie walk out on Max and ruin his chance to get custody of baby Abi?
Everyone was shocked when Max Branning married his former sister-in-law Rainie Cross a few months ago. But little do they know, the marriage is just a business arrangement to help Max win custody of his baby granddaughter Abi. But Rainie is heartbroken soon when Max lets slip to brother Jack the marriage is a sham, since reformed drug addict Rainie has gradually been falling in love with serial womaniser Max! It looks like Rainie is ready to storm out of Walford and ruin the custody case for Max.
Could this be the end for the couple? Tanya Franks, who returned to EastEnders this year as Rainie, tells us more...
When was the moment Rainie realised her marriage to Max was more than a money-making opportunity?
Tanya Franks: "I think it started early on. She thought she was getting one-up on her sister Tanya as much as anything. But I think the moment it really kicked in for her was when Donna flagged up about her not being able to have children. So Rainie then went on this big kick she wanted to have a family."
https://youtu.be/7MFvFrGuYts
Does Rainie really love Max or is it more the idea of having a family that keeps her in the marriage?
TF: "It's a mixture of things. She loves the opportunities Max has offered her. She likes the feeling of being a wife now and being wanted and the idea of having a child. So it's the whole package really. But she does fancy Max and wants to be fanciable to him too."
How does Rainie react when Max tells Jack their marriage is a complete sham?
TF: "She is shocked because at that point she and Max have slept together and seem to be getting on really well and appear to be falling in love with each other. It's all going swimmingly and then she finds he's telling his brother it's a sham. So that is a big kick in the teeth for Rainie because she really thinks they've made a massive leap forward."
It looks like Max has messed-up the marriage! Is there any way he can make amends with Rainie?
TF: "I think there could be a way for them to move forward, but only if they are both prepared to work it through together."
Have you had much feedback from viewers about Max and Rainie's relationship?
TF: "I think people are really enjoying it. Max and Rainie are an unlikely pairing and it seems people are really warming to it and enjoying the antics of it and seeing where the relationship can go."
If Max and Rainie do stay together, what kind of mum do you think Rainie will be to baby Abi?
TF: "It remains to be seen if she can actually fulfil the role of a mother. That's probably going to be a rocky road."
Would you like to see Rainie, Tanya and Cora reunited on screen?
TF: "Absolutely. I think there was a great dynamic between the two daughters and the mother. There's so much history there and Tanya and Rainie are so different from each other and yet they both have elements of Cora in them. Cora and Rainie are like peas in a pod at times, which can be too close for comfort for both Rainie and Cora. It would be lovely to work with Jo Joyner again, who played Tanya."
Does Rainie feel she could finally be the woman to tame Max Branning?
TF: "Yes. If she sticks to the rules as much as she can, I think she thinks she could be the one to hold down Max Branning. But he'd totally have to be able to hold her down too. It's a two-way street!"
Do you have much input into Rainie's wardrobe? She has upscaled a bit!
TF: "When I first came back we tried on lots of different looks and decided she would really be making an effort this time. Her appearance has to be believable so she looks responsible. She has to play the part of being a responsible business woman. Also she's never been in the position before where somebody is buying her clothes so she can wear them on a day-to-day basis. I think she's enjoying that, she likes walking around feeling confident."
Rainie is trying to turn her life around. Has she finally beaten her drug addiction?
TF: "The thing I love about Rainie is she's so complex. I like that we're seeing another side to her but of course those demons never leave somebody. They are always there, and I don't take her demons lightly. I wouldn't necessarily want to see her pushed back onto a pathway of destruction again unwittingly or just for an entertainment point-of-view. If that was to occur it would have to be because we needed to see that dark side of her again."
When you were playing Rainie as a drug addict, did you get much feedback from viewers?
TF: "There were complaints at the time. The irony was, people complained EastEnders shouldn't be showing characters taking drugs before the 9pm watershed. But the fact is we didn't show the actual drug taking itself. So I think that is full credit to the show, that people believed they had seen it when they hadn't. But if it made people think, or it disgusted them, it opened up a whole conversation. Rainie reflects people who go through this on a day in-day out basis in society. But if people didn't like what they saw, I feel it was an opening for them to think about exactly what the problems are with people going through this."
What do you like about working with Jake Wood (Max)
TF: "We laugh such a lot, we're constantly chuckling about things. But we also work hard. We're really enjoying this storyline. We do have a lot of laughs because we find it so entertaining that Rainie and Max are together. It's the funniest thing to have happened! I love Jake's integrity for the work, he's absolutely there 100% every time. It's a real joy working with him."
Is Rainie somebody you would be friends with in real-life?
TF: "No, but that's why I love playing her!"
Finally, if things don't work out with Max, would you like to see Rainie stick around without a fella?
TF: "As long as EastEnders throw something at me that is something new for me to learn about Rainie then I'm happy to go along with it. So yes, if she had to be a strong independent woman with no man around then yes I would definitely play that."
EastEnders continues Monday, Tuesday, Thursday at 7:30pm and Friday at 8:00pm on BBC1
Get the latest updates, reviews and unmissable series to watch and more!
Thank you for signing up to Whattowatch. You will receive a verification email shortly.
There was a problem. Please refresh the page and try again.