Enders preview: 'I need your help,' jailed Phil tells Sharon. To do what…kill Nick? (VIDEO)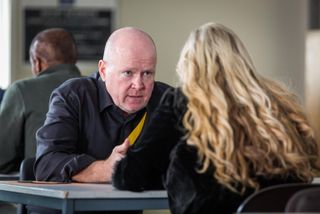 Just two days in and 2015 has already proved to be a very bad year for Emma Summerhayes (Anna Acton (opens in new tab)), who died after being hit by the car that crashed, almost killing Ronnie (Samantha Womack (opens in new tab)).
The future doesn't look bright for Phil (Steve McFadden (opens in new tab)), either, who has been banged up on remand… The police think he cut the brake line on the car and caused the crash.
Which means Phil's in a lot of trouble. Emma's dead because of that crash and it's still touch and go with Ronnie.
Wife Sharon's devotion looks a bit shaky when she asks him: "Did you do it?"
And Phil is understandably outraged. "It's a stitch-up! I've been set up!" he growls at Sharon.
"By who?" wonders Sharon (Letitia Dean (opens in new tab)).
Phil knows… Nick Cotton (John Altman (opens in new tab)), aided by the pathetic Yvonne (Pauline McLynn (opens in new tab)).
"But I need proof, Sharon. I need your help," Phil tells Sharon.
What does Phil want Sharon to do? And just how much is nasty Nick going to wish he had taken Phil's money and run?
Watch the preview here (opens in new tab).
And see the whole EastEnders (opens in new tab) episode on BBC1, Tuesday, January 6, 7.30pm.
Get the latest updates, reviews and unmissable series to watch and more!
Thank you for signing up to Whattowatch. You will receive a verification email shortly.
There was a problem. Please refresh the page and try again.