'Gavin will make Halloween horrific for the Mitchells,' reveals EastEnders' Harry Reid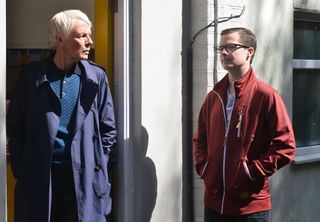 (Image credit: BBC/Kieron Mccarron)
EastEnders' actor Harry Reid (opens in new tab) tells Soaplife how Gavin destroys 'alpha male' Phil Mitchell - then turns on the rest of the Mitchell family...
It's never easy being Ben Mitchell… And life's got even more complicated for him now that mum Kathy Beale is back on the scene. It's a lot more scary, too, as Kathy returned with Gavin Sullivan, who has given Ben's dad Phil such a battering that he returns to the Square a broken man.
After seeing what Gavin's done to Phil, the Beales and the Mitchells are on edge this Halloween. But they ain't seen nothing yet… "It's an exciting and dark Halloween when we get to see the real Gavin," reveals Harry (opens in new tab).
How does Ben feel about Kathy's reappearance?
"He's still struggling to find forgiveness. Kathy [Gillian Taylforth (opens in new tab)] raised Ben to be a tap-dancing, music-loving, soft-natured lad, but he was turned into a brutal murderer in Phil's arms. He's also confused about his sexuality and he has a dad who doesn't like the idea of him being gay."
What about Gavin?
"You have to remember Gavin [Paul Nicholas (opens in new tab)] was Ben's stepdad for years. He grew up with him, so there's a lot of love there. Ben came to Walford a happy child, so Gavin clearly didn't do a bad job. He also blames Kathy for lying to him all those years and not Gavin. Ben finds Gavin more understanding than Phil."
But Ben knew Phil was in danger from Gavin?
"Yes. That's why he wanted money from Ian [Adam Woodyatt (opens in new tab)] to give to Phil. He wasn't going to leave him to die. And he also believed he could start a new life away from the Square with his mum. Ben realises Gavin has a nasty edge, so it was a bit stupid of him to think he could get away with running off with Kathy."
Is Phil dead?
"The police find Phil's blood in Gavin's house and the first thing Ben thinks is Gavin's killed Phil [Steve McFadden (opens in new tab)]. But then Phil comes home."
What happens?
"Phil's in a mess. He's dishevelled and broken, and weak, and it hurts Ben to see that. The alpha male of the family has been destroyed."
What has Gavin got in store for them at Halloween?
"It's bad, really bad and it has the potential to change lives in the Square."
EastEnders (opens in new tab), BBC1
Get the latest updates, reviews and unmissable series to watch and more!
Thank you for signing up to Whattowatch. You will receive a verification email shortly.
There was a problem. Please refresh the page and try again.