Good Friday EastEnders: Martin puts a ring on Stacey's finger…but she's keeping secrets!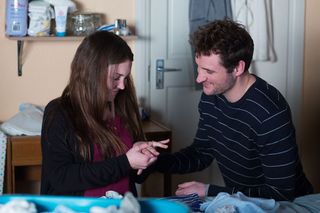 (Image credit: BBC/Jack Barnes)
If ever there was someone who could benefit from some warm and fuzzy moments, it's Stacey Branning (Lacey Turner (opens in new tab))… And she got one in Tuesday night's episode, when she asked Martin Fowler (James Bye (opens in new tab)) to marry her and he said "yes".
In Good Friday's episode, Martin puts his money where his mouth is, presenting Stacey with an engagement ring and putting it on her finger.
Martin makes his romantic gesture when he visits Stacey and Arthur at the mother and baby unit, where she's recovering from her postpartum psychosis.
It's the sort of tender loving care Stacey needs. Martin's love will help Stacey get strong enough mentally to leave the unit and return home to Albert Square.
They're engaged! Stacey and Martin make their engagement official
But don't expect this love story to be without a few twists in the tale…
At home there's Stacey's half-brother, Kyle (Riley Carter Millington (opens in new tab)), who's told her he used to be "Sarah" and has begged her not to tell Martin. So she's keeping secrets from her fiancé already…
Then there's Kush (Davood Ghadami (opens in new tab)) - baby Arthur's biological father.
That secret's out and Martin's learning to live with it.
In Thursday's episode, Kyle cooked duck lasagne (what the…duck?) as a special meal for Martin's big announcement to ex-wife-and-constantly-interfering Sonia (Natalie Cassidy (opens in new tab)), daughter Bex (Jasmine Armfield (opens in new tab)), his aunt Kathy (Gillian Taylforth (opens in new tab)) and Kush…
"It's good news for a change," he told them all. "Me and Stace are getting married!"
"So Arthur will really be my brother," Bex said.
Then Kush offered himself for babysitting duties "while you're wedding planning", he said.
Bex didn't like that, though. She's still very bitter about Kush's role in Martin, Stacey and Arthur's life together.
"I just want Arthur to know he's my son. Is that wrong?" Kush said to everyone.
A sweet kiss for Stacey and Martin. But will things turn sour?


No one knew how to answer and Kush left the room – but he overheard Martin saying he can't see him and Kush being mates again.
No. They're enemies now. And while Martin and Stacey are preparing to make their love work for ever, Kush and Martin are at war… And every war has its casualties.
See Martin and Stacey seal their love with a ring and a kiss in EastEnders (opens in new tab) on BBC1 at 7.30pm.
Thank you for signing up to Whattowatch. You will receive a verification email shortly.
There was a problem. Please refresh the page and try again.