Matt Di Angelo stars in Ordinary Lies: 'Fletch has the power to ruin his dad's life!'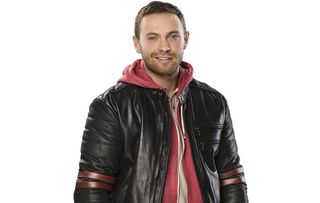 (Image credit: BBC/Red Productions/Adrian Roger)
Matt Di Angelo talks to Soaplife about his new role in the return of hit BBC1 series Ordinary Lies, plus Strictly Come Dancing and building his own house!
Matt Di Angelo (formerly Dean Wicks in EastEnders) is back on TV, starring as a lad called Fletch in the new series of hit BBC1 drama series Ordinary Lies, which returns on Tuesday, October 18.
He chatted about the role and having Griff Rhys Jones as his on-screen dad...
Tell us about the show, Matt… "The characters all have something to hide, but I don't have that many secrets in my own life… unlike Fletch. I'm not revealing exactly what Fletch's secret is, but it involves his dad, played by Griff Rhys Jones."
How did you get on with Griff? "It was super challenging working with him, but I like that. I walked off set feeling like I'd done a good job. One of the highlights of being in Ordinary Lies has definitely been working with Griff!"
What does Fletch do? "He works in the warehouse of a sports clothing company and kind of lives for the weekend – beer, his mates and his motorbike – because he doesn't like his job."
Have you ever had a job you didn't like? "I sold shoes for a couple of years, but at least I got to meet people. But I've been acting since I was nine and I've been very lucky with work."
Can you give us a hint about what's going on with Fletch and his dad? "What he finds out about his dad has the potential to cause real shock waves. Fletch has the power to ruin his dad's life if he wants to. It gets a bit dark as time goes on."
Some of the characters drive forklift trucks in the warehouse. Did you? "No, but I did get to film a very dramatic motorbike scene."
After playing rapist Dean Wicks in EastEnders and now 'dark' Fletch, don't you fancy doing some comedy? "There's a lot of comedy in Ordinary Lies. One minute, you're sobbing and, the next, saying some very funny lines. I really enjoy comedy and I'm hopeful I'll get to do more. I'm hilarious in real life, you see. A very funny man!"
Strictly Come Dancing is back… How do you remember your time on the show nine years ago? "I was taught by world champion dancer Flavia Cacace-Mistry and I got to perform live in front of seven million viewers every week. It was madness, but the best thing I could have done at the time."
Did that lead to your role in the BBC drama Hustle? "Yes. The producer of Hustle saw me on Strictly and called me as a result. It's very weird to think if I hadn't put on sequins and entered a TV dance contest, that role wouldn't have happened."
What's next for you? "I don't know. I never usually do. When I left EastEnders at the end of last year, I didn't know I'd do Ordinary Lies. I'm planning to build a house, for one thing!"
Get the latest updates, reviews and unmissable series to watch and more!
Thank you for signing up to Whattowatch. You will receive a verification email shortly.
There was a problem. Please refresh the page and try again.