Revealed: EastEnders horror as nasty Nick gets his hands on Charlie's newborn son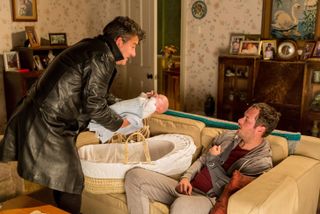 What is Charlie (Declan Bennett) thinking? Why has he let his disgusting, vile, low-life of a father anywhere near his baby?
Nasty Nick (John Altman) is pure poison and him being anywhere near Charlie's newborn son can't be good for the baby. So what is going on?
The happy event that should have been Ronnie (Samantha Womack) and Charlie having their baby has become a horror show…
Ronnie's in hospital, fighting for her life after the car crash - and that's just where nasty Nick wants her to be. In fact, the only way he wants Ronnie to leave the hospital is in a coffin.
Nick caused the accident, cutting the brake line on the car that Roxy (Rita Simons) crashed. He heard Ronnie tell Phil (Steve McFadden) she wanted Nick dead and decided it was "kill or be killed".
Yvonne (Pauline McLynn) - equally vile - knows what Nick did and has framed Phil for the crash, which also killed Emma (Anna Acton).
When - not if - Phil (and Ronnie, if she lives) get their hands on Nick, his days being a grandfather will be over.
So, is Nick just making the most of his time to play Grandad with the baby? That doesn't really sound like him…
Or is Nick using the baby to threaten to Charlie? That sounds much more like him!
What Nick is doing is actually quite stunning: he's trying to help traumatised Charlie bond with his son.
Find out how that goes in EastEnders, BBC1, Thursday, January 8, 7.30pm.
Get the latest updates, reviews and unmissable series to watch and more!
Thank you for signing up to Whattowatch. You will receive a verification email shortly.
There was a problem. Please refresh the page and try again.