So… Did Kyle just reveal that it's Andy who's been stalking Ronnie in EastEnders?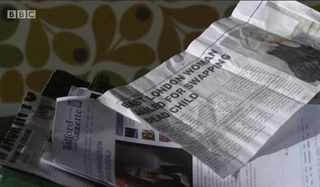 Well, EastEnders was full of shocks and surprises last night. The fact that Stacey (Lacey Turner (opens in new tab)) actually married Martin Fowler (James Bye (opens in new tab)) was a happy relief after the way handy Andy Flynn has been hanging around her.
But then we found out that Andy (Jack (opens in new tab) Derges (opens in new tab)) isn't really interested in Stacey at all… It's seems to be Ronnie (Samantha Womack (opens in new tab)) that he's obsessed with – and it seems to be because of her dead daughter, Danielle.
It was Stacey's half-brother, Kyle (Riley Carter-Millington (opens in new tab)), who revealed the truth about Andy – well, some of it…
Kyle found Andy's folder, full of clippings about Ronnie's past baby tragedy


Looking for his wallet in Stacey's flat, where Andy was taking a shower, Kyle found a folder with papers and photos inside…newspaper cuttings about Ronnie's dark days, when she swapped her dead baby, James, for Kat Moon's live baby, and a photo of a good-looking bloke with Danielle.
As Kyle looked through it, Andy walked in. Fans might has been distracted by Andy's half-naked body, but Kyle had only one question… Showing Andy the photo he'd found, Kyle asked: "This you? Who's the girl?"
Andy is shocked when Kyle confronts him with what he has found
And then the cameras cut away before we could hear what Andy told Kyle…
Now, how could Andy answer him?
He didn't have to tell us that was him with Ronnie Mitchell's dead daughter in the photo because everyone could see that, just like we saw the newspaper cuttings in the folder about Ronnie.
The photo is fuzzy but that is definitely Andy with his arm around Danielle
But Kyle doesn't know Ronnie or anything about her whole tragic history with Danielle and James. So he won't be as curious as the rest of us.
So, what is Andy's link to Danielle?
Sharp viewers will have picked up on things Andy has revealed about himself: he's from the Midlands (so was Danielle), he has a sister (Danielle had an adopted brother) and her adopted dad was called Andy.
We're not suggesting Andy is her adopted dad – he's far too young. But he could be her adopted brother, named after his dad…couldn't he?
And that would give him a reason to be stalking Ronnie and leaving a funeral wreath at her door… He wants revenge for his dead sister.
Danielle has been dead for seven years, though, hit by a car just as she and Ronnie were reunited.
Which makes the big question: why has Andy waited so long to come looking for Ronnie?
Does the answer lie with Hannah Reynolds (Mia Jenkins (opens in new tab)), the half-sister Danielle never knew?
Hannah's father, Joel (Cavan Clerkin (opens in new tab)), was Ronnie's first love and the father of Danielle. He left his family for Ronnie but later returned to them. Still, Hannah blamed Ronnie for Joel's death earlier this year.
And is Ronnie the only person who could be in danger from Andy, or will he target her partner Jack Branning (Scott Maslen (opens in new tab)), too?
We reckon we won't have long to find out exactly what Andy's playing at, not now Kyle has seen his secret folder.
EastEnders (opens in new tab) continues on BBC1, Monday, May 23, 8.00pm.
Get the What to Watch Newsletter
The latest updates, reviews and unmissable series to watch and more!