'There's still something between Kathy and Phil,' reveals EastEnders' Gillian Taylforth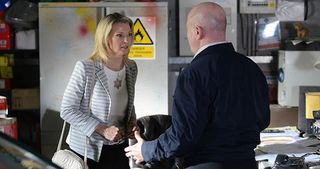 (Image credit: BBC/Kieron McCarron)
Kathy's back and she faces a stunned Sharon… and the truth about her 'death' is finally revealed, says EastEnders' Gillian Taylforth...
What's it like, rising from the dead?
"I never expected to come back because Kathy was killed off – although we never saw a body. When they asked me if I wanted to return, I was like 'Wow!', as the story was amazing. I loved doing Hollyoaks, but I feel EastEnders is my home. It's where I came from."
How does Sharon (Letitia Dean) react when she finds Kathy at The Arches?
"It's really dramatic when they meet and there's a bit of a scrap between them."
Isn't Kathy cruel to have faked her own death for cash?
"It was an insurance scam, but it wasn't Kathy's idea. I can't imagine doing it myself, but it's all to do with her being under the control of her husband, Gavin [Paul Nicholas]. He told her she was a bad mother and a bad person. When they left for South Africa, Ben was supposed to go with them. But Gavin said, 'It's safer for him to stay here'."
Does Kathy believe Ian and Ben will forgive her?
"She has this idea she'll come back and it will all be OK once she explains things. However, she has to understand what she put them through and, bit by bit, that really hits her. She realises what she's done to Ben [Harry Reid] and Ian [Adam Woodyatt] and what she's missed out on with the grandchildren. I mean, Lucy's died, and Ben's committed a murder and he's a father. She thinks she can get rid of Gavin and they'll all live happily ever after."
Is Gavin really nasty?
"He is. He can be a charming character, who can turn menacing, dark and deep."
What's going on between Kathy and Phil (Steve McFadden)?
"There's still something between them. He's been helping her out and there's still a little bit of love there. They were together for a long time and they have Ben. I'm not sure if it'll turn into anything because he's married to Sharon now."
What will Kathy get up to in Walford?
"You'll have to wait and see! I want to go to The Albert and Ian's new restaurant. I wouldn't mind getting the cafe back, but I don't know what's going to happen."
EastEnders, BBC1
Get the latest updates, reviews and unmissable series to watch and more!
Thank you for signing up to Whattowatch. You will receive a verification email shortly.
There was a problem. Please refresh the page and try again.