Watch the EastEnders cast and crew bust some moves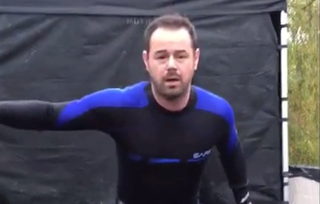 EastEnders promised that last night's New Year's Day episodes would be dramatic, and they didn't disappoint with Dean turning up at Mick and Linda's wedding to get revenge on his mum Shirley.
However, before the episodes were aired, EastEnders posted a behind-the-scenes video showing the cast and crew dancing to Hotline Bling, the 2015 hit song by Canadian rapper Drake.
It shows Danny Dyer (Mick), Luisa Bradshaw-White (Tina), Shona McGarty (Whitney), Linda Henry (Shirley), Jonny Labey (Paul), Matt Di Angelo (Dean), Kellie Bright (Linda), producer Dominic Treadwell-Collins, as well as other cast and crew, dancing to the track. Clink the link below to see the video.
Attention all hashtaggers, likers, re-tweeters, trendsetters and key influencers: #EastEnders do the Hotline Bling! https://t.co/NGXME6SkLT
— BBC EastEnders (@bbceastenders) January 1, 2016
The episodes began with Mick and Linda waking up on the morning of their big day and there was drama from the off when their eldest son Lee – also Mick's best man – went AWOL after overhearing that his girlfriend Whitney wanted to dump him.
Then, as the guests arrived at the wedding venue – a posh country hotel – Dean Wicks turned up looking for his mum, who attempted to drown him in the bath after she discovered him attempting to rape his fiancée Roxy. 
Just before the ceremony was about to start, Mick realised his mum was missing and went to look for her. When young Jade told him that her dad, Dean, had showed up, and gone off with Shirley, a worried Mick went outside and spotted his mum and brother arguing by the lake. 
During the angry confrontation, Dean pulled Shirley into the water, leaving Mick to race down to the water to save his mum, which meant, of course, getting his 'whistle' (suit) wet. As the two brothers tussled in the water, Mick punched Dean and knocked him out, leaving him floating face down in the water as he went to pull Shirley to safety. 
When Linda realised what was going on, she rushed down to the lake with Tina and Buster. When Mick and Shirley were safely out of the water, they noticed Dean's apparently lifeless body had sunk below the surface of the water, so Mick jumped back in to save him. 
After pulling Dean out of the water, Buster tried to bring his son back to life and declared that he had "gone". But Mick wasn't having any of that – he wanted to see Dean pay for what he had done – so after a bit of mouth to mouth, his brother spluttered back to consciousness. But before anyone had time to take in what had happened, the police arrived to arrest Dean.
By now, Linda's white dress was covered in mud, and Mick's suit was a wet right-off, but they weren't going to let that – or the drama with Dean – stop them from getting married, so they went back to the hotel to get ready for their nuptials. While Linda did her best to clean herself up, Mick had nothing dry to wear except a few pieces of casualwear from his honeymoon suitcase. He tried them on but said they didn't feel right, while Linda said she didn't care what he was wearing.
As they say, be careful what you wish for, because when she arrived to walk down the aisle, she spotted Mick had opted to wear a fluffy pink dressing gown and flamingo slippers!
The couple finally tied the knot, but while they had a happy ending, there was drama for a few of the other residents of Albert Square. 
Roxy returned to the Square for the first time since Dean's attack – but she wasn't alone. She came back to pick up a few things with her mum Glenda. And when Ronnie revealed that Vincent is convinced Phil's dad Eric killed his old man Henry on Christmas Day 1981, Glenda responded by saying that it couldn't have been the Mitchell patriarch because he spent the day drinking until the point of passing out! So, who did kill Claudette's husband? Seems like someone's telling porkies. 
Meanwhile, Denise bottled out of seeing her murderous ex Lucas in prison, while Alfie told Kat he wanted them to stay in Walford, while still keeping her in the dark about his medical condition.
Get the latest updates, reviews and unmissable series to watch and more!
Thank you for signing up to Whattowatch. You will receive a verification email shortly.
There was a problem. Please refresh the page and try again.