Emmerdale's Asan N'Jie hints at dramatic return for villain Max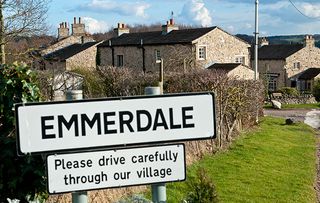 (Image credit: ITV)
As the fallout from April's Big Night Out episodes continues, Ellis is convinced that Max is still lurking in the village…
While it turned out NOT to be Max who stabbed him on the Big Night Out, Ellis believes the gangster is still lying in wait to wreak his revenge on him and his brother Billy.
Next week, we'll see Ellis, played by Asan N'Jie, continue to struggle with panic attacks and anxiety in the aftermath of that fateful night. He's convinced that the villain is still hanging around the village, biding his time, but is it all in his head?
When Max starts sending him threatening texts, it starts to look like Ellis might be right. 'We don't actually know what happened to Max,' Asan teased. 'So he could still be out there. We don't know what Max's next move could be.
'It's definitely going to be an eventful one and we're going to have to see where the journey pans out with it all.'
Asan also hinted that what happened next would determine whether Ellis ended up making up with his brother Billy. 'It could bring us closer together, because we've had a near-death experience as brothers,' he said. 'But it could push us apart, depending on what happens now.'
And he revealed that finding out about Victoria's rape had left his character rattled. 'Deep down he doesn't know what to think about it,' he admitted. 'To be honest with you, Ellis wants to be there for Victoria but major things have happened in his life too.
'He's on a bit of a seesaw at the moment. His emotions are everywhere and he doesn't know what his future is going to hold.'
Last week, Isabel Hodgins, who plays Victoria, told Express.co.uk that she didn't think Victoria and Ellis would get back together after she revealed her shock pregnancy news.
'When I was first told, I had ideas,' she admitted. 'But that's not my call, we'll have to see what the bosses decide.'
Emmerdale continues on ITV.
Get the latest updates, reviews and unmissable series to watch and more!
Thank you for signing up to Whattowatch. You will receive a verification email shortly.
There was a problem. Please refresh the page and try again.