Cain Dingle could be Emma Barton's killer, says Emmerdale star Jeff Hordley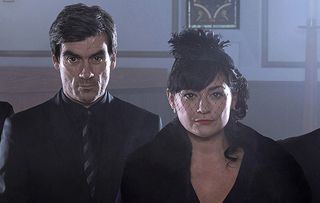 And Cain Dingle has it in him reveals Emmerdale star Jeff....
Emma Barton's murder has become a "whodunit?" and there is a long list of suspects… Cain Dingle is one of them!
What's the story?
Cain Dingle never had much to do with Emma Barton, but when she stole Moira Dingle's baby, he saw red, even though he didn't know for sure then that he was the daddy. "He wanted to protect Moira," Jeff Hordley told Soaplife. "There was a big problem and Cain decided to sort it out."
What's happening in Emmerdale? See the latest soap storylines
Jeff Hordley reveals all to Soaplife about Cain Dingle...
Soaplife: Why did Cain feel so strongly even before he knew the baby was his?
Jeff Hordley: "Cain has never stopped loving Moira. She has told him on numerous occasions that it's over, though, so he's had to move on. Otherwise, he would be with her. He realised he made a mistake when he went off with Charity and has regretted it ever since. Even though they haven't been together, Cain has made it known that he is there to support Moira if she needs him."
S: So what about Harriet?
JH: "He loves her. They have a lot of fun together. It's a bit like a teenage relationship in that they keep saying 'Right, we're not going out with each other any more' and then they get back together."
S: And how does he feel about his newborn son?
JH: "He doesn't want anything to do with the child because Moira doesn't want anything to do with him. That's what he did with Kyle, too, at the beginning."
S: Could Cain be Emma's killer?
JH: "We've seen the lengths Cain will go to when he's angry many times before – he's thrown a lot of people into the boot of his car for a start. He's been much more mature lately, but the Cain of old never leaves him really. I've always said he has the potential to snap. It's in his DNA."
S: Would you like Cain and Moira to be reunited?
JH: "I'm sad about Moira and Cain not being together, although it's great working with Katherine [Dow Blyton, who plays Harriet]. It's Cain's own fault, though - he blew it."
Emmerdale, ITV
Get the latest updates, reviews and unmissable series to watch and more!
Thank you for signing up to Whattowatch. You will receive a verification email shortly.
There was a problem. Please refresh the page and try again.