'Carly rushes to protect Johnny from Kirin,' reveals Emmerdale's Gemma Atkinson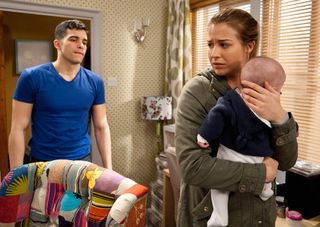 Carly reacts immediately when she thinks Kirin is going to harm Johnny, Emmerdale's Gemma Atkinson reveals to Soaplife.
What does Carly see Kirin doing?
"She walks into the house and she can hear loud rock music, the TV is on and Kirin [Adam Fielding] has hold of Johnny and is shouting in his face. She's scared for Johnny and intervenes like anybody would."
But she doesn't tell Vanessa until she sees an ambulance outside her house…
"She thinks the ambulance is for Johnny. She feels bad because she has left him alone with Kirin even though she was worried about what he was doing. She runs in and screams at Kirin, 'I knew you were going to do something!' in front of Vanessa."
What does Vanessa make of that?
"Vanessa [Michelle Hardwick] asks Carly to tell her exactly what happened or Kirin will and she understands when Carly explains that she didn't know what to do. Carly leaves them to it to discuss it between them."
Who is the ambulance for?
"Leyla [Roxy Shahidi] has collapsed and Carly feels really bad because she accused Kirin, but it is better to be safe than sorry."
We know there's a baby in Carly's past…
"And she reacts the way she does with Kirin and Johnny because of the things she has been through. Something that happened in her past is resurfacing and Johnny is bringing back a lot of painful memories."
Will she confide in anyone?
"She is about to open up to Tracy [Amy Walsh] about it, but isn't totally ready, so she twists the story and says she had a friend who lost a baby."
What can you tell us about this photo she has?
"We see her with a baby, but don't know whose it is. Is it Carly's baby? What happened to him? Gradually the layers of this story will get peeled off and we find out that Carly moved to Emmerdale to try to get away from this piece of history, but now it's coming back to haunt her. And as the truth comes to light, it will get worse and worse for Carly."
Emmerdale, ITV
Get the latest updates, reviews and unmissable series to watch and more!
Thank you for signing up to Whattowatch. You will receive a verification email shortly.
There was a problem. Please refresh the page and try again.