Charity returns and announces she's the new pub landlady!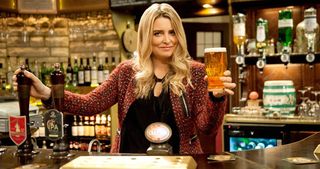 (Image credit: Andrew Boyce)
Tonight's double dose of Emmerdale sees the return of Charity Dingle after her spell in prison. And as you might expect, she doesn't come quietly because after turning up in a stolen Ferrari, she makes an announcement that stuns her family, friends and neighbours…
After Charity is released from prison earlier than expected, Cain and Moira wonder where she's gone, but they soon find out when they are out and about driving along a country road. The couple are forced to stop because the road is blocked by a flock of sheep that has broken free after a car crashed through the fence of a field. And when they spot a bright red Ferrari, Cain and Moira are stunned to see Charity stepping out of the vehicle…
And there's a further shock in store for Cain, Moira and the rest of the villagers when Charity announces that she's the new joint owner of The Woolpack! Will being the landlady of the village pub provide her with the stability the mum of three needs or will it go straight to her head?
"It is just brilliant to see her behind the bar," said Emma Atkins, who plays Charity. "Something very different. She will be under the watchful eye of Chas, but both characters can give as good as they get so it will be a colourful dynamic."
For Emma, Charity's newfound status has been a bit of a challenge…
"My pint pulling can literally floor my workmates, by being brilliant one minute and horrendous the next. It's a continuity extravaganza as I'm learning the ropes from the props guys and Lucy (Pargeter, who plays Chas) of course. It's a skill in itself having to say the lines, work the props and try and give a fluid performance without having an expression of dread wondering if the pint will have a good head of 'froth' on it!"
"The bar is a bit like a stage for Charity where she can show off and deliver her explosive one liners to the locals. Her behaviour will no doubt fluctuate from good to bad to ugly, with a decent dose of naughtiness thrown in."
Thank you for signing up to Whattowatch. You will receive a verification email shortly.
There was a problem. Please refresh the page and try again.