Debbie Dingle's back in Emmerdale 'with a bang', says Charley Webb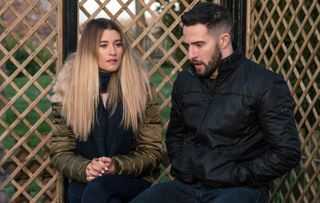 Charley Webb reveals the murky circumstances that have brought Debbie back to Emmerdale and previews the drama to come...
It turns out that Debbie Dingle's new life in France wasn't as idyllic as she'd hoped. Cain's fiery daughter is back home in Emmerdale and in big trouble, Charley Webb tells Soaplife…
Tell us about Debbie's return? "Cain's watching the news and sees something on CCTV. Something has happened and he sees footage of Debbie. He talks to Charity and they argue over what to do. Meanwhile, Debbie and the two kids are being chased. She manages to get to the village and needs help. She's in trouble and two heavies are looking for her."
What do these guys want? "They want money and intend to use Debbie's kids as collateral."
This is nothing to do with Ross Barton then? "It isn't, but you never know. It was all a little bit weird when Debbie left, so I am sure they will pick that up somewhere down the line. There will always be some sort of drama between them."
What sort of life has she been living in France? "It's been chaotic. I'm sure she will have met some guy and that has something to do with her return. She is up to her neck in it and when she comes back, it is with a bang."
Will Cain and Charity be able to bail her out? "They do their best. It will be the Dingles at their finest."
What will she think if she finds out that Ross and Charity have been fraternising? "I am sure it will cause drama between her and Charity. Nothing Charity does surprises Debbie; she is just a little bit more disappointed each time. She will definitely have something to say about it."
How does Debbie feel about Ross now? "I am not sure. She has had a year away from him. You never know, she might say to Charity 'It's okay, you have him.' Debbie hated him when she left the village, but then again, they have this incredible chemistry. Ross has had a bad time with James dying and perhaps Debbie will want to try and save him."
Is Debbie disappointed about Cain and Moira splitting up? "Yes, because she thinks that Moira is good for Cain. She certainly doesn't want him back with Charity, as that is always carnage."
Get the What to Watch Newsletter
The latest updates, reviews and unmissable series to watch and more!