Debbie risks prison to accompany daughter Sarah to Prague, reveals Emmerdale's Charley Webb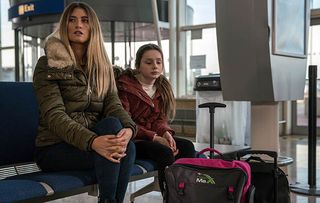 Debbie Dingle is desperate. Daughter Sarah needs to get to Prague for urgent cancer treatment, but Debbie is banned from travelling. Charley Webb explains what Debbie does next
Sarah Sugden is due to travel to Prague for cutting edge cancer treatment, but her mum Debbie Dingle can't go as she has a criminal record. What is she to do? Get a fake passport, of course! And who better to sort this than her former lover Ross Barton.
"Debbie is desperate to go to Prague with Sarah," Charley Webb told Soaplife.
What is this treatment that Sarah is going for? "It's called proton treatment, but is not available in the UK – Prague is the closest place where you can get it. Debbie has chosen this treatment as there are fewer side effects than you get with the chemo or radiation therapy that Sarah was having. It will be a bit easier for her in the long run."
But Debbie can't leave the country… "She's on bail and isn't allowed out of the country, so she would have to travel on a fake passport and that is a massive risk. If she got caught, it would be really stressful for Sarah."
What do the rest of the Dingle family say? "They are all against the idea as they don't want to see Debbie get into more trouble. Eventually, they force her to agree to let her mum Charity [Emma Atkins] do the trip with Sarah."
But then Debbie changes her mind. Why? "She hears Sarah talking to her great grandmother Faith [Sally Dexter] and saying that she is afraid of going to Prague and dying without her mum there. That breaks her heart and makes her decide to take the risk to be there with her daughter when she needs her most."
Why does she go to Ross to help? "She knows that Ross [Michael Parr] will go out of his way to help. She would normally go to Cain [Jeff Hordley], but as he is so against her travelling to Prague, she can't."
Does she go? "She gets as far as the airport, but Faith has secretly taken her boarding passes and she doesn't realise until she goes to get them out to check in."
How does she get on with Faith? "Faith goes to live with Debbie, so they are really involved with one another's lives. Faith wants to be there for the family."
Emmerdale, ITV
Get the What to Watch Newsletter
The latest updates, reviews and unmissable series to watch and more!