Emmerdale's Gaynor Faye: baby Eliza disappears when Megan leaves her in the car!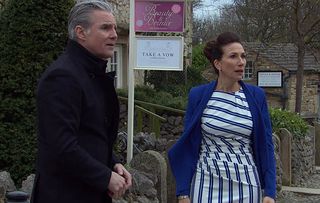 Harassed mum Megan gets distracted, then returns to her car to find baby Eliza has gone missing! Emmerdale's Gaynor Faye reveals the terrifying story
Wedding planner Megan Macey thought she had this motherhood business down to a fine art. What could possibly go wrong? A lot as it happens… In a moment of confusion this fortnight, Megan leaves baby Eliza in the car and returns to find her missing.
"It's the worst thing that can happen to any parent," Gaynor Faye told Soaplife. "It means Jai [Eliza's father] has so much ammunition against her now."
How is Megan as a mother? "Because Eliza has cerebral palsy, Megan's extremely protective. She doesn't like to let the baby out of her sight. However, when it comes to Jai [Chris Bisson], she's given in a bit and she's let him back into their lives. It's tough, though, as she's a single mum who's juggling childcare with business."
What's the reason for her leaving Eliza in the car? "Megan's having a busy day. [Her business partner] Leyla [Roxy Shahidi] isn't in the office, she has a meeting, then she gets a call to say there's a burst pipe at Eliza's nursery and she has to pick her up. Then the bank calls and she has this meeting with a guy who might let her use his hotels for weddings. He's waiting for her when she parks up and she leaves the car while she's on the phone… and forgets her daughter!"
What happens when she realises she's left her baby alone in the vehicle? "She immediately turns and runs back out, feeling really bad but expecting Eliza to be there. However, the car door is open and the baby has gone. She feels terrible. Megan's number one priority is her daughter and she's really let her down."
Other than the awful thought of not seeing Eliza again, what are her fears? "Megan knows you can't leave a baby alone in the car and she's terrified of social services getting involved. She's afraid Jai will come along like a knight in shining armour and want to take Eliza away."
What do you think of this latest twist? "I know it does happen. Somebody was telling me they saw baby twins in the back of a car once and nobody came back to the car for about 10 minutes!"
Can you ever see Megan and Jai getting back together? "No, he's burned his bridges. He had two affairs with Leyla and Megan can't forgive him. It's never going to happen."
Emmerdale, ITV
Get the What to Watch Newsletter
The latest updates, reviews and unmissable series to watch and more!