Emmerdale's Jeff Hordley reveals his dream on-screen buddy – ex Corrie villain John Stape!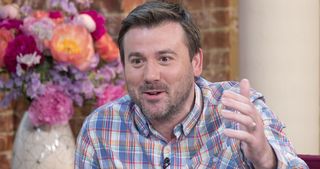 (Image credit: Ken McKay/REX/Shutterstock)
Charity being back in Emmerdale is a headache for Cain – and so is the reappearance of Moira's daughter, Holly Barton, Jeff Hordley explains to Soaplife...
How does Cain feel about Charity being back on the scene?
"He is all right, even though she brought trouble with a capital T the moment she showed up in a stolen Ferrari. His main concern is Noah, really. He doesn't want to see him let down."
How does he feel about Charity wanting him back?
"Cain and Moira are in a strong place at the moment so that's not a worry to him at all. He's just going to try not to let Charity [Emma Atkins] get to him."
And then Holly turns up…
"Cain's still kind of dealing with Charity being back, so it's not ideal to have Holly [Sophie Powles] show up as well. She doesn't like Cain; she believes he's the reason Moira split up with her husband, John, and he doesn't want her around."
How far would he go to get rid of her?
"She's Moira's daughter and he will put up with her. Basically, Cain is a human at heart."
Charity and Holly plan to split Cain and Moira up. Will they succeed?
"I think they could spell trouble, but Cain doesn't realise what they are up to initially. I would be gutted if Cain and Moira broke up. I love working with Natalie [J Robb, who plays her] and I do think that as a couple, they have a certain appeal. She has tamed him and I think viewers like that."
He still has that dark side, though, doesn't he?
"Yes. I don't think it needs to be there all the time, as that would make him two-dimensional. Instead of being the Prince of Darkness, he has human qualities, which is why it's more powerful when he does show his darker side."
Do you go through lines with your wife and co-star Zoe (Henry, who plays Rhona Goskirk)?
"Occasionally, if we have a big day or some heavy scenes coming up. I do a mean Paddy Kirk – I am very good at stammering."
Are there too many women in Cain's life?
"I think he could really do with a new male friend at the moment. I would love to see him paired up with a character played by Graeme Hawley, who is one of my best mates in real life. He was John Stape in Coronation Street and I reckon he would be the perfect buddy for Cain."
Emmerdale, ITV.
Get the latest updates, reviews and unmissable series to watch and more!
Thank you for signing up to Whattowatch. You will receive a verification email shortly.
There was a problem. Please refresh the page and try again.