Emmerdale spoilers: Whack! Rebecca fights back against killer captor Lachlan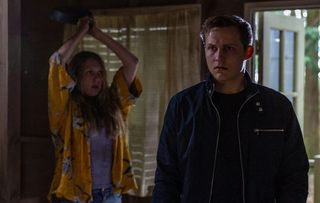 Don't miss tonight's double-bill of Emmerdale as captive Rebecca springs a surprise on her killer nephew Lachlan! But can Rebecca escape?
Village killer Lachlan White is usually the one clunking people over the head and bumping 'em off. But in tonight's double-bill of Emmerdale, his captive aunt Rebecca White turns the tables on him...
Lachlan has left Rebecca locked-up in a cabin in the woods since she discovered his killer secrets. But he's unaware that kid detectives Arthur, Cathy, Heath, Angelica and April are busy investigating the stranges noises they have heard coming from the woods and are close to discovering the place where Rebecca is being held prisoner.
But when Lachlan realises what the junior ghostbusters are up to, he races into the woods to try and reach Rebecca first. But little does he know as he enters the cabin, Rebecca is hiding in the shadows ready to whack him over the head!
Will Rebecca manage to escape and report her nasty nephew's dastardly doings to the police?
Don't miss the double-bill of Emmerdale tonight at 7:00pm/8:00pm on ITV
Get the latest updates, reviews and unmissable series to watch and more!
Thank you for signing up to Whattowatch. You will receive a verification email shortly.
There was a problem. Please refresh the page and try again.