Emmerdale's Thomas Atkinson, aka killer Lachlan White: An old lady smacked my bum!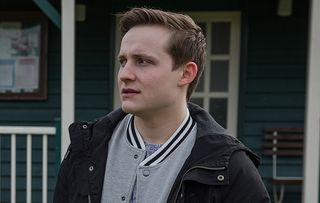 That's what happens when you play a serial killer!
When you're a soap actor and you're appearing in people's living rooms six times a week, getting badgered by the public when you're out and about is all part and parcel of the job. And when you're playing a villain, like Emmerdale killer Lachlan White, the attention isn't always favourable – we've heard countless tales of actors being accosted by furious, cucumber-wielding pensioners whilst doing their weekly shop.
Emmerdale star Thomas Atkinson is the latest star to discover the perils of playing a baddie. The 19 year old, who plays killer Lachlan White on the ITV soap, says he's constantly being shouted at by irate viewers – and one of them recently got a bit physical…
"It's normally old women calling me a naughty boy," Thomas tells us. "I had an old woman smack my bum in the Trafford Centre…which was weird!
"But it's great, and I love playing a baddie; it's a lot of fun."
It's no wonder Thomas is getting such attention, as it looks like Lachlan has earned himself the title of the most prolific serial killer in soapland.
Back in January, the teen deliberately caused a car crash that led to the deaths of mum Chrissie and grandfather Lawrence. In May, he then bumped off best mate Gerry Roberts at the B&B when the lad discovered his deadly secret – staging the death to look like it was caused by Doug Potts' dodgy DIY.
Gerry's fake Uncle Terry was the next target, in July. Lachlan believed the conman was responsible for a series of sinister texts he'd received – only to then learn that Liv was the guilty culprit.
And in last Friday's episode (August 10th), it looked like Lachlan had seen off his aunt Rebecca, whom he'd held hostage in a shack after she'd interrupted him trying - and failing - to kill Liv and Robert.
Following an earlier struggle between the pair, Rebecca was nowhere to be seen and there was a noticeable blood stain on the sofa.
But Lachlan may not be finished yet. Next week, it seems Priya could come a cropper, when she interrupts the lad as he's trying to erase an incriminating message Rebecca has written on the shack wall.
Reveals Thomas: "In one of her many attempts to escape, Rebecca has written 'Lachlan is a killer' on the shack. That's a terrible thing for anyone to find out, and he's got to think of a way to get rid of it without people seeing.
He adds: "Priya is definitely in danger. Anyone that's messing with his safety and his relationship with Belle; it's potentially not going to have a great ending."
Get the latest updates, reviews and unmissable series to watch and more!
Thank you for signing up to Whattowatch. You will receive a verification email shortly.
There was a problem. Please refresh the page and try again.