Emmerdale's Charlotte Bellamy talks Laurel's booze spiral: She's drunk and desperate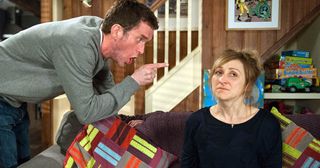 (Image credit: Andrew Boyce)
Laurel Thomas is back drinking and feels the only way she can stop is to leave Ashley and all the stress of her home life, as Emmerdale's Charlotte Bellamy explains
Laurel Thomas is back on the booze in Emmerdale and she decides to call time on her marriage! Charlotte Bellamy tells Soaplife why...
Why does Laurel (Charlotte) drink again? "Ashley [John Middleton] forgot she had a drink problem and poured her some wine – and it proved lethal. She wakes up with a hangover for the first time in ages. She's pregnant and, worse still, she's craving more booze. Once you're an alcoholic, you will always be one."
What happens to Laurel the morning after? "She feels really guilty that she drank a bottle of wine while pregnant. She makes out to Ashley that he drank the wine and she leaves the house. She doesn't know where she's going, but Marlon [Mark Charnock] sees her and he realises she's drunk."
What happens? "It's all pretty ugly. She still wants to drink and, in a bid to get more wine, she tries to seduce Marlon and get him to join her with a glass. He cooks her breakfast, but then he tells her that he has to go to work. He says she can stay at his house and drink herself silly if she wants to. It's her choice. He urges her not to drink anywhere else and he leaves her to it."
What does she do? "She pours herself a glass of wine and she has to decide if she's going to go down that road or not."
Why does she question her future with Ashley? "She thinks she isn't strong enough to do this. If she stays with Ashley, she believes she'll start drinking again. If she leaves, she won't, but she has to think of the children."
What does she decide to do? "She decides she's going to leave Ashley. He begs her to stay and Doug [Duncan Preston] also urges her to think again. Even though he was initially against her marriage, he explains she can't give up on her wedding vows."
What lies ahead for Laurel? "Emmerdale wants to show this isn't all doom and gloom. There'll be some lightness to the story. Ultimately, it's a love story and, although it's hard, there will be moments of inspiration."
Emmerdale, ITV
Thank you for signing up to Whattowatch. You will receive a verification email shortly.
There was a problem. Please refresh the page and try again.