Emmerdale's Chris on Eric's HIV bombshell!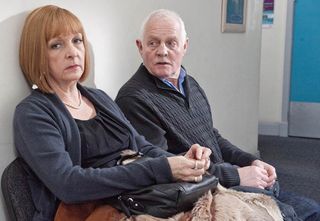 Emmerdale's Chris Chittell warns Soaplife that the future looks grim for Eric and Val…
How does Eric feel about his one night stand with Diane in Emmerdale?
"Guilty. He really does love Val and sleeping with Diane was one of those silly things you do in life and think: 'Dear God, why did I do that?'. Diane feels exactly the same."
Then Val finally drops the bombshell that her ex has HIV… how does Eric react?
"He's shocked. And worried about Diane, but he can't tell Val that. It's something that Eric, like any of us, never envisaged happening to him or his nearest and dearest."
Does he support Val when she asks him to go to the clinic with her?
"He goes out of a mixture of guilt and love. He also makes an appointment for himself to be tested."
What if one or both of them has the virus?
"Eric is devoted to Val, but one of the reasons they got together in the first place is because she knows how to press his buttons. If that side of their relationship is threatened, do they still have a life together?"
And does either of them have the virus?
"Val does - and she doesn't react well to it. She thinks her life is over and believes she might as well smoke and drink herself to death."
Then Diane confesses to Val about her her one night stand with Eric…
"And Val and Eric have an almighty row and she throws him out. It's another nail in the coffin as far as Val is concerned. She is rattling around in that big house all on her own. Even the dog is pushed to one side."
What is the prognosis for Val?
"HIV can be treated now in a way that it couldn't years ago, but Val is very down about it and feels she would rather die than live with the virus."
Can Eric and Val's marriage survive?
"The diagnosis is going to be a huge strain on their love life and it will be interesting to see what happens next. Right now, though, every turn that Pollard takes makes things worse and worse."
Get the latest updates, reviews and unmissable series to watch and more!
Thank you for signing up to Whattowatch. You will receive a verification email shortly.
There was a problem. Please refresh the page and try again.