Emmerdale's Danny Miller: 'I take breaks alone. I make sure I'm not snapped out of Aaron's dark mood'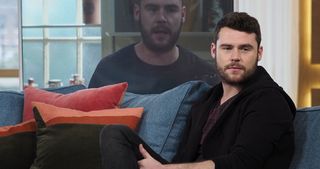 (Image credit: Ken McKay/ITV/REX/Shutterstock)
Danny Miller (opens in new tab) makes torment look easy. His tears flow freely and raw emotion is etched on his face as he delves into Aaron Livesy's difficult past to relive the awful moment when his father Gordon raped him.
His performance gets you right in the solar plexus and it is easy to see why (opens in new tab)Emmerdale bosses have entrusted the young actor with such a sensitive storyline.
Emmerdale's Danny Miller talks to TV Times (opens in new tab) about returning to the darkness that surrounds the life of Aaron Livesy.
We know you're very committed as an actor, but what we don't see is the hours of preparation you put into your scenes before they're filmed...

"I wouldn't be doing my job if I didn't give it everything. You have to remember, people are going through this in real life, so I owe it to them to get it right.
"Also, I have been talking to a friend who has been abused and this person is always in the back of my mind when I am filming these scenes."
Describe a typical day when you're filming?
"It begins with early nights followed by an hour-long commute on the M62 from Manchester, where I live, to Leeds and the drive is done in silence. I have that hour to try and get myself into the right head space.
"Once I get into work, psyched up for the big scenes, I have to make sure I'm not snapped out of Aaron's dark mood. That means no light-hearted banter. So, I take tea and meal breaks alone and on set, everybody speaks in hushed tones.
"I have to go to a place you never want to imagine and everybody at work respects that. They create an atmosphere that allows me to get into that mindset and stay there. It's been tough. The hardest story I have had to do, I think."
Do you find it easy to switch off at the end of the day?
"I am usually really good at shutting the door on things when I leave work, but this time, that's been hard. I've had to rely on friends to cheer me up after work, or visits to the gym. The radio helps too – on the way in, I drive in silence, but going home, I will listen to the most upbeat shows I can find."
You and the Emmerdale team have worked closely with the NSPCC for this story, so what's the feedback been like?
"So far, it's been extremely positive. I am so pleased it has been well received. I've had messages from somebody who is a survivor of abuse saying that they can relate to it and that means a lot to me, it means we are doing the story justice."
When you returned to Emmerdale two years ago, was you aware the dark storyline was on the horizon?
"When it was pitched, it kind of made sense to me. It explains why Aaron is the person he is. Although I have known for some time, I have had to keep it to myself.
"I am really enjoying the challenge and look forward to finding the light at the end of the tunnel. It would be nice to see Aaron offload his past and become a happier person."
Next week, Chas exposes Aaron's story. How does he react?
"Aaron feels betrayed when Robert explains that it is good that it is out in the open. Aaron is not so sure. He doesn't like the attention he is getting. Or the funny looks."
Do you know how this sorry tale is going to end?
"Our new producer Ian McLeod has started and he has been that busy I have not had a chance to sit down with him to see where this is going. There will be a court case and nothing will be shied away from, that is one thing I can guarantee."
What's next for you. A holiday?
"When one story ends, another begins, but I have booked a break in August. I am going away with my family this year, with the young 'uns, which means there might not be a lot of time for lying down and reading books, but being with family is just as relaxing for me."
Have you thought about moving to Leeds?
"My heart lies in Manchester with my family. I like being removed from work and if I need to stay in Leeds, it's easy as there are lots of B&Bs and cast members who are happy to put me up. I actually enjoy spending an hour on the M62 as it's a good opportunity to switch off – as long as it hasn't turned into a car park!"
What's it like being part of the Emmerdale family?
"Emmerdale is the best job I've ever had and I'm thrilled to be part of it. I didn't go to drama school and being on a soap is 'the best learning ground you could ask for.'
"I am lucky. There are actors out there not working and I am here doing these massive storylines and surrounded by people like Lucy Pargeter (Chas) and Dominic Brunt (Paddy Kirk), who are great actors and friends now, too. Everybody here has a good sense of humour and nobody takes themselves too seriously which makes for a healthy place of work."
Get the latest updates, reviews and unmissable series to watch and more!
Thank you for signing up to Whattowatch. You will receive a verification email shortly.
There was a problem. Please refresh the page and try again.