Emmerdale's Jeff Hordley: 'Holly's addiction has pushed Cain to his limits. It's time for tough love'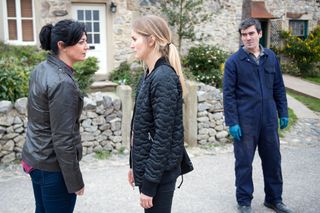 (Image credit: Andrew Boyce)
Holly Barton's return has pushed Cain and Moira's marriage on to the rocks in Emmerdale. Jeff Hordley (opens in new tab) tells Soaplife if he thinks they can survive…
Cain actually walks out on Moira for a short time, doesn't he?
"Yes. He's devastated, but he feels it's all he can do as Moira [Natalie J Robb (opens in new tab)] can't see clearly when it comes to Holly. Holly's drug addiction has pushed him to his limits. Cain says that Moira must ask Holly to choose drugs or her family, but she can't. Cain doesn't want to stand by and watch as he feels sure Holly is going to die one way or another."
Does he hate Holly for ruining his marriage?
"No, he is angered by what has happened, but he also understands addiction because of Shadrach's alcoholism. Cain knows how addiction can destroy families and he pities Holly [Sophie Powles] (opens in new tab)."
How does Cain think Holly should be handled?
"He knows that to help her get through this they have to take a different tack – they can't always give in and be there for her."
But Cain does go back to Moira. Why?
"His heart is with Moira so he needs to get back to her. But he only agrees to give things another go if Holly takes a drugs test. He thinks a bit of tough love is needed. He worries that Holly is going to break Moira's heart if they don't do something drastic. He's certain that the only way they can all live together is if she will take a drugs test to prove she is totally clean and Moira stands by him and agrees."
Are they strong enough to get through this?
"I think so. They are really strong and have cleared lots of hurdles already."
Emmerdale (opens in new tab), ITV
Get the What to Watch Newsletter
The latest updates, reviews and unmissable series to watch and more!