Emmerdale's Ryan Hawley: 'I hope some viewers can see Robert isn't just a monster!'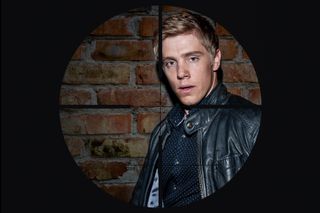 Emmerdale's Ryan Hawley (opens in new tab) talks to Soaplife about the village finding itself embroiled in a new whodunit when a shooter gets Robert Sugden in their sights....
Robert's life is in danger as soon as Andy finds out he was responsible for Katie's death… How does that happen?
"Andy [Kelvin Fletcher (opens in new tab)] realises that Aaron [Danny Miller (opens in new tab)] was the last person who Katie called and asks Robert about it. During their conversation, it's obvious that Robert knows more than he is letting on and Andy susses him out. He tries to call the police, so Robert confesses and tells his brother everything."
He admits to murder?
"No, because he believes it was an accident. He never intended to kill Katie [Sammy Winward (opens in new tab)]; he was trying to protect himself by stopping his affair with Aaron coming out. We don't actually know what would have happened if she hadn't fallen through the floorboards. He tells Andy the truth, but doesn't tell him about Aaron's involvement."
What does Andy do when he hears the truth?
"Andy beats him up basically. He takes all his anger and frustration out on Robert."
And then Robert's arrested…
"It all happens very quickly. The police come knocking and Robert gets in the car silently. He knows he has a choice. If everyone in the village finds out what he did, the repercussions will be enormous. So Robert tells the police that Andy is crazy, that he is making it all up."
No! Chas (Lucy Pargeter (opens in new tab)) advises him to leave the village, but he doesn't. What happens?
"That's when he gets shot."
Who pulled the trigger?
"A lot of people have made it very clear that they don't like Robert. His relationship with Andy is almost beyond repair; Aaron has made it very apparent that he doesn't like him. Lawrence [John Bowe (opens in new tab)] says what he thinks, too, and is furious about the fact that Robert set him up with the young boy Connor. All his relationships are at the end of their tether."
What do you think of Robert?
"It has been such a thrill to play a character who is so complicated and deceitful. I have really enjoyed it and hope there are some viewers out there who can see that he isn't just a monster. I hope his shooting divides opinion."
Emmerdale (opens in new tab), ITV.
Get the latest updates, reviews and unmissable series to watch and more!
Thank you for signing up to Whattowatch. You will receive a verification email shortly.
There was a problem. Please refresh the page and try again.