Emmerdale gran Faith Dingle puts Sarah's life at risk reveals Sally Dexter!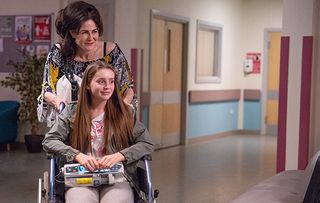 Faith Dingle's careless words make her granddaughter refuse her life-saving heart op… now she has to put that right says Emmerdale star Sally Dexter
Try as hard as she might, Faith Dingle can't help but put her glamorous foot in it. She's desperately worried about Sarah Dingle and she's horrified when she finds out that her granddaughter is refusing a heart transplant after hearing Faith talk to Joe Tate about her illness…
What's the story?
"It is all Faith's fault," actress Sally Dexter tells Soaplife. "She's so worried about Sarah that she didn't dare hold out much hope and she told Diane Sugden and Joe so. Unfortunately, Sarah overheard." Can Faith turn things around and get Sarah to have the operation?
What's happening Emmerdale? See the latest soap storylines
Sally Dexter's interview with Soaplife about Faith Dingle's fears for her granddaughter…
Soaplife: How does Sarah's mum, Debbie Dingle, react when she hears what Faith has done?
Sally Dexter: "She's absolutely furious with Faith. She's pinning her hopes on this transplant and to discover Sarah's backed out because of what Faith said is crushing. She orders Faith to stay away from Sarah and that's hard for her."
S: Does Faith feel guilty?
SD: "Faith feels hugely responsible. She'd do anything to help Sarah, so she really feels she's made a huge blunder even thought she didn't mean to. I don't think she could ever forgive herself if Sarah didn't have the operation because of her. Without medical intervention, Sarah won't make it."
S: Will she try to put things right?
SD: "Yes and she know she'll have to do something dramatic to shake Sarah out of her gloomy state. She wants to show her life in a new light to somehow persuade her to change her mind."
S: What's the plan?
SD: "Faith comes up with this extraordinary plan. She whisks her out of the hospital, with a drip still attached to her. She wants to show Sarah that life is worth living and she needs to have this operation so that she has a future."
S: What's it like working with Katie Hill who plays Sarah?
SD: "It's an absolute joy. She's a fabulous actress. Faith and Sarah are on a level and I think that Katie and I are too despite the age difference."
S: Can Faith hold the Dingles together in Lisa's absence?
SD: "Yes, but not by using discipline or authority. It would be by having a damn good party every now and again."
S: How are things going between Eric Pollard and Faith?
SD: "I don't know if it will end with wedding bells, but I think the relationship will move along in some way. It's not a wild romance by any means. I hope it lasts because Eric actor Chris Chittell is such a joyous person to work with. He's got the best sense of humour I've ever come across."
S: What reaction do you get from fans when they meet you?
SD: "They're so lovely. I couldn't wish for a better response really. They usually come up to me and tap my arm and say 'It's you isn't it?' Then they say 'You're bad, you are…'"
Get the latest updates, reviews and unmissable series to watch and more!
Thank you for signing up to Whattowatch. You will receive a verification email shortly.
There was a problem. Please refresh the page and try again.