Emmerdale fans thrilled by Cain and Moira, aka Coira, getting back together and enjoying a huge kiss!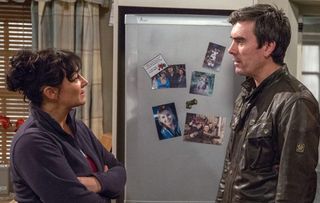 Coira are back! Now viewers wonder if Robron will be next to reunite...
Emmerdale viewers were overjoyed last night when Cain and Moira - aka Coira - reunited on the bridge.
Cain, played by Jeff Hordley, dramatically announced he was still in love with Moira (Natalie J Robb) and asked her to meet him on the bridge at 5pm if she felt the same…
Spying Moira on the bridge, Cain declared: "It's one minute after five."
Moira replied: "Well, we've got the rest of our lives together – if you fancy it. I love you so much it hurts."
"Get in," said one excited fan, while another commented: "She went to the bridge... I'm so emotional tonight."
One said: "The Coira fandom right now."
Another viewer said: "So sweet, well done Emmerdale, well worth the wait."
Now fans want them to stay together, with one saying: "Please don't let them split up again," while another commented "Neither of them are ever allowed to leave the soap."
Talking about why Cain and Moira are attracted, Jeff recently said: "They compliment each other. There are similarities between them, but also a bit of yin-and-yang thing, which makes them work well."
Many viewers are now hoping for another reunion - Robron!
Emmerdale continues tonight at 7pm.
Get the latest updates, reviews and unmissable series to watch and more!
Thank you for signing up to Whattowatch. You will receive a verification email shortly.
There was a problem. Please refresh the page and try again.