From superhero to zero – Emmerdale's Finn Barton is arrested!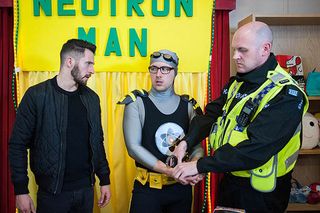 (Image credit: Andrew Boyce)
A money-making venture leads to arrest and a criminal record for Emmerdale's Finn, who's usually the good Barton brother. Joe Gill tells Soaplife how it happens…
So, how does Finn get in this mess?
"He saw Noah playing with a superhero figurine that Charity had given him and he recognised it was rare and worth quite a bit of money. When he mentioned this to Charity [Emma Atkins], she explained that she had loads. He should smell a rat, but he doesn't. He's so transfixed by these Neutron Man figurines that he doesn't stop to think about where they've actually come from. Charity asks him to sell them and offers him a cut and he's delighted by the prospect. Clearly, he doesn't know they're stolen."
Dressed as a superhero, Finn has no power to resist arrest when he's caught breaking the law


And this leads to him dressing up as Neutron Man…
"Yes. He advertises online and holds a comic convention at the village hall that is very extravagant. That's why he's dressed as this superhero. Finn does a roaring trade. But then the police turn up and arrest him for handling stolen goods."
Bet that's a shock for the family!
"It's a shock for Finn, too. He's used to Pete and Ross being the ones who are in trouble. It's so strange to have his parents shouting at him. He's really angry about it, but it's partly his fault for not being more vigilant."
It's usually Ross wearing the handcuffs but Finn's gone from superhero to zero…
He moves straight on to another business idea, though, doesn't he?
"Yes, he comes up with the idea of starting a cab firm as it's something he can do with Ross and Pete. He really wants things to go right in the family for once, but having a criminal record would really go against a cab driver – and he's got one now! Ironically, he finds himself in a situation where Ross is the only brother who hasn't got one."
Are you pleased to have Anthony Quinlan back as Pete?
"I am. It's been quiet without him. Anthony, Mike [Parr, who plays Ross] and I are best mates now and we might even go on holiday together this summer if we get a bit of a break. Anthony and I often stay over at Mike's and we all go out for a bit of food. We get some strange looks when we're out together!"
Emmerdale, ITV.
Get the What to Watch Newsletter
The latest updates, reviews and unmissable series to watch and more!