Laurel drinks 3 bottles of wine and falls unconscious, reveals Emmerdale's Charlotte Bellamy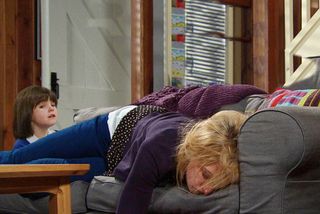 Laurel returns from her dry break with Marlon - and hits the bottle again... hard. Emmerdale's Charlotte Bellamy reveals all to Soaplife
So, was Laurel's break with Marlon not good?
"It was amazing. They had a great few weeks and she didn't drink at all. Laurel and Marlon [Mark Charnock] have reconnected and she's feeling positive life will be OK."
Has she acknowledged she has a drink problem?
"No. She doesn't believe there's much of a problem. She said all along it was a life problem and she's come back in a great frame of mind, thinking all she needed to do was press the reset button."
But things go badly wrong again… What happens?
"Laurel applies for a job with Jimmy [Nick Miles] and thinks honesty is the best policy, so she tells him about her drinking. He's really positive about her, he knows her and he's grateful she told the truth. But then Jai [Chris Bisson] gives her a bad reference and says she was drunk at work. As a result, Jimmy gives the job to Tracy [Amy Walsh], causing Laurel to come crashing down and reach for a drink."
A big drink!
"She downs three bottles of wine and ends up unconscious."
And nearly kills herself!
"She chokes on her own vomit. That was really hard to film in front of the kids and I felt it was a brave move by the writers. It's a very real, raw experience that lots of people have been through. It shows you how vulnerable she is. April and Arthur find her. April phones an ambulance and Arthur runs into the pub and tells everyone."
Where's Marlon when all this is happening?
"Marlon's at work. He walks in the house to see the paramedics working on Laurel. He's horrified. She was alone with the kids and was supposed to be looking after them."
What's this storyline been like to play?
"I'm really enjoying playing drunk. When people are drunk, they have lots of different sides. You can be angry drunk, aggressive, weepy, silly or funny. I've enjoyed finding all of those and, at the same time, telling a poignant, raw and real story."
Emmerdale, ITV.
Get the What to Watch Newsletter
The latest updates, reviews and unmissable series to watch and more!