Emmerdale's Liam Fox: 'Dan feels less of a man after Eric's attacked and he hides!'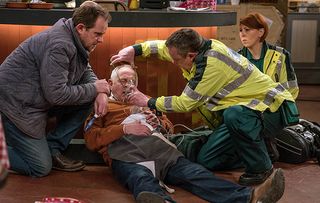 Dan Spencer's bravery is tested in Emmerdale as David's shop is robbed and he feels he lets himself down, explains star Liam Fox
Trainee paramedic Dan Spencer is in the right place at the right time when Eric Pollard is attacked during a robbery at his son David's shop. But, rather than rush to Eric's aid and see the yobs off, Dan cowers in a corner and is left feeling horribly guilty.
"It is one of those split-second decisions," Liam Fox told Soaplife. "He decides not to risk getting battered with a baseball bat and is immediately racked with guilt."
How does Dan come to witness the robbery? "He pops into David's shop for some bits and bobs and is minding his own business when things take a nasty turn. He hears these guys come in and thinks nothing of it, but the next minute they are having a go at Eric [Chris Chittell]."
What does Dan do? "He falls to the floor and hides behind a cut out of David [Matthew Wolfenden] that they are using to advertise Tracy's book. He stays there frozen."
What do the youths do to Eric? "After trying to get cash from him, one of them loses it and hits him with a bat, which is terrifying. Eric is obviously in pain and Dan knows how to step in and help, but he doesn't."
Why does he freeze? "I think it is that decision that loads of us might have, when something is happening you don't know what to do. Do you dive in or not? There is a risk he will get whacked with a bat, but Eric is an old guy and he should do something."
Is this normal behaviour for Dan? "I think something happened in Dan's past that stopped him from getting involved in violence. He avoids it at all costs."
How does he feel after the incident? "When the lads leave, he calls an ambulance and feels ashamed that he didn't do anything. He feels that if he can't take on some kids, then something is wrong. However, he didn't know if they were 17 or 14 and there could be repercussions if he got involved and hit a kid."
Will Dan get over this? "The guilt affects him for a while and makes him feel less of a man, no matter what [his partner] Kerry [Laura Norton] says. He should have dived in earlier and he knows it."
What is next for Dan? "The shock of this event will continue for a while. It won't resolve itself quickly. Dan doesn't want anyone to know what happened and will be really embarrassed if people find out."
Emmerdale, ITV
Get the What to Watch Newsletter
The latest updates, reviews and unmissable series to watch and more!